AVMATRIX Mini SC1221 HDMI to Dual 3G-SDI Pocket-Size Broadcast Converter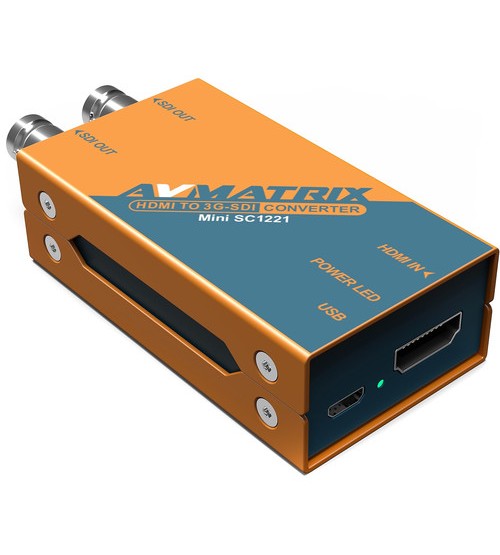 Lihat gambar lebih detail
Features
>> HDMI Type-A Input
>> Two 3G/HD/SD-SDI Outputs
>> Supports up to 1080p60 Resolution
>> Works 24/7 without Lag/Delay
>> Micro-USB Port for Power
>> AC Power Adapter Included
>> Can Be Connected to Power Banks, Etc.
>> LED Power Indicator
>> Mounting Bracket Included
The Mini SC1221 features a full-size HDMI input and two 3G-SDI outputs and supports up to 1080p60 resolution. EMC compliant, the Mini SC1221 can reliably be used 24 hours a day, 7 days a week without interruptions, lag, or delay. A mounting bracket is also included that easily attaches/detaches and allows for convenient mounting indoors or outdoors.
The Mini SC1221 has a USB port for power and an LED indicator that confirms power status. An AC adapter is supplied that connects into the micro-USB port to provide continuous power, but you can also connect it to other sources over a USB cable (included). For example, you can connect it to a laptop or a power bank. A 10,000mAh power bank will run the converter for approximately 24 hours.
The converter is also capable of working in a wide temperature range of -4 to 140°F.