Sony 32GB SxS SBS-32 for XDCAM EX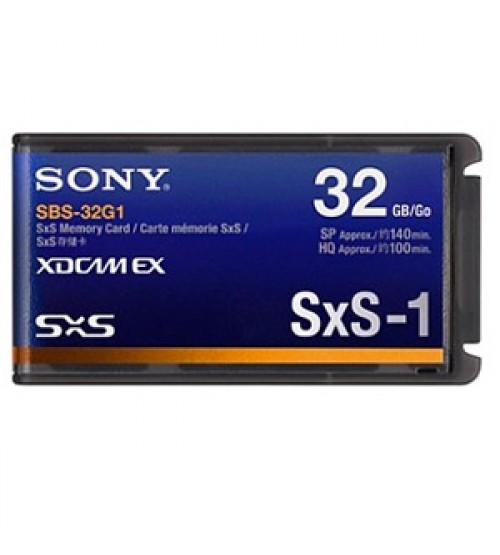 Lihat gambar lebih detail
Lifetime Indicator
Lifetime indicator displays on camcorder (SxS-1 only)
The remaining media rewrite cycle is displayed in the viewfinder of XDCAM™/XDCAM EX™ camcorders† and a notification will be shown when SxS-1 memory card is approaching its end-of-life. This function does not support consumer cards.
† Only when using PMW-E1R, PMW-320, PMW-330, PMW-350 or PMW-500. (When recorded at full capacity one time per day, SxS-1 will continue to use for approximately five years.)


Compact Size
The SxS-1 Memory Card specification uses ExpressCard™/34 modules (width: 34mm, height: 5mm, depth: 75mm), half the size of PC Cards. This enables the design of professional camcorders to be smaller and lighter, while still offering high storage capacities.
High Reliability
Salvage function for XDCAM™/XDCAM EX™ Camcorder
A unique salvage function serves to restore content lost due to power failure or memory disconnection during recording. In addition, SxS-1 Memory Card specifies product reliabilities offering the freedom to shoot in harsh conditions and environments. Consumer cards do not support this function.
Note: No guarantee is given for content restoration.
| | | | |
| --- | --- | --- | --- |
| Recording Time | | | |
| | | | |
| File System | Mode Setting | SBS-64G1A | SBS-32G1A |
| FAT | HQ (35Mbps) | Approx. 200min | Approx. 100min |
| XDCAM/ | SP (25Mbps) | Approx. 280min | Approx. 140min |
| XDCAM EX | DVCAM (25Mbps) | Approx. 260min | Approx. 130min |
| UDF | HD422 (50Mbps) | Approx. 120 min | Approx. 60 min |
| XDCAM | HD420 (35Mbps) | Approx. 180 min | Approx. 90 min |
| | IMX50 (50Mbps) | Approx. 120 min | Approx. 60 min |
| | DVCAM (25Mbps) | Approx. 220 min | Approx. 110 min |
Technical
Warranty
Non Warranty