Godox Video Light LED 1000C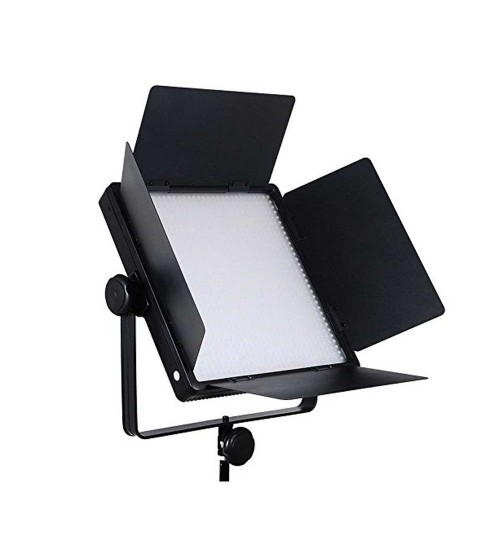 Lihat gambar lebih detail
Product description
· This LED 1000 video light provides a wide spectrum, beautifully soft and even illumination for video and still photography. The four reflective barn-doors can maximize the light efficiency.
· Three models are available: LED 1000W White version(5600k), LED 1000 Y Yellow version(3300k), and LED 1000C Changeable version (3300k~5600k).
· Equipped with a remote control, this light can wirelessly adjust its brightness and color temperature.


Features:
· 1024-LED-bulbs panel is lithium-ion or DC powered.
· Three versions to offer more choice
· Wirelessly adjust brightness or color temperature.
· Wirelessly grouping system(6 group & 16 channels).
· Large-size LCD panel. Setting auto saved.



Specification:
· Brand: Godox
· Model: LED-1000C (Changeable Version)
· Lithium battery: 14.8V lithium battery(SONY BP-L model lithium battery) (sold separately)
· DC Power supply: 13~16.8V
· Group: 6 group (A、B、C、D、E、F)
· Power: Max. 70W
· Color temperature: 3300k~5600K±300k
· Brightness(LUX): 4400(1m/4200k),2200(1m/3300K),2200(1m/5600K)
· Light brightness range: 3300K/5600K: 10%~100%, 3400K~5500K: 25%~100%
· LED beads quantity: 5600K: 512, 3300K: 512
· Operation temperature: -10~50℃
· Dimension: 43*46*10cm
· Color: black
· Total Weight: 4146g

Remote Control
· Power supply: 3.0V(AAA*2)(not include)
· Distance(emptiness): 20m
· Channel: 16
· Group: 6 groups(A、B、C、D、E、F)
· Standby time: over one year
· Operation temperature: -10~50℃
· Dimension: 12*3.8*1.5cm
Technical
Warranty
Non Warranty