Sony ECM-W1M Wireless Microphone for Cameras with Multi-Interface Shoe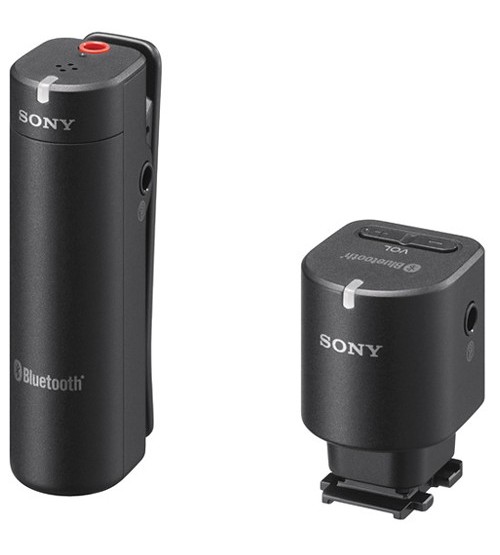 Lihat gambar lebih detail
PRODUCT HIGHLIGHTS
Bluetooth Wireless Microphone System
Wireless Range of up to 100'
Two-Way Communication Possible
Headphone Out on Receiver & Transmitter
Auxiliary Mic Input on Transmitter
Wearable Transmitter Design



The Sony ECM-W1M Wireless Microphone is designed specifically for Sony cameras and camcorders that feature the proprietary Multi-Interface Shoe. The microphone comprises two components: a transmitter and a receiver. They communicate wirelessly with each other using Bluetooth technology and feature a range of up to 100', depending on conditions. With the receiver attached to your camera it is still possible to capture additional audio using the camera's built-in microphone. In addition, audio picked up by the camera can be relayed back to the transmitter. The transmitter features a headphone jack that allows the camera operator to communicate with the person wearing the transmitter by speaking into the camera's microphone. There is also a headphone jack on the receiver so that the camera operator can monitor audio even if the camera itself doesn't provide a headphone out of its own. Finally, the transmitter features a 3.5mm mic input allowing you to use a third-party microphone rather than the built-in one.

The transmitter can either clip on your belt, or be worn using the included elastic arm band

Includes windscreen to help reduce wind noise when filming outdoors

Includes two earphones for monitoring audio and a pouch to store everything in

For Sony cameras and camcorders with Multi-Interface Shoe

Transmitter powers from a single AAA battery; receiver power directly from the camera

Corresponds to "5.1-channel Center Mic" mode

Compatibility
Receiver: Sony cameras and camcorders with Multi-Interface Shoe
Capsule
Monaural electret condenser
Pick-up Pattern
Non-directional
Frequency Response
300 Hz to 9 kHz
Wireless Interface
Bluetooth - interoperability with other Bluetooth products is not guaranteed
Wireless Range
Up to 100' / 30 m - depends on conditions
Connectivity

Transmitter:

1 x 3.5 mm mini headphone jack
1 x 3.5 mm microphone input

Receiver: 1 x 3.5 mm mini headphone jack
Power Source
Transmitter: 1 x AAA battery
Receiver: Power from Multi-Interface Shoe
Operating Temperature
32 to 104°F / 0 to 40°C
Storage Temperature
4 to 140°F / -20 to 60°C
Dimensions
Transmitter: 0.7 x 2.6 x 1.2" / 19 x 66 x 30 mm
Receiver: 1.1 x 1.5 x 1.1" / 27 x 38 x 29 mm
Weight
Transmitter: 0.7 oz / 19 g
Receiver: 0.6 oz / 17 g

Packaging Info
Package Weight
0.65 lb
Box Dimensions (LxWxH)
8.3 x 5.8 x 2.3"
Technical
Warranty
Non Warranty