Sony HVR-M25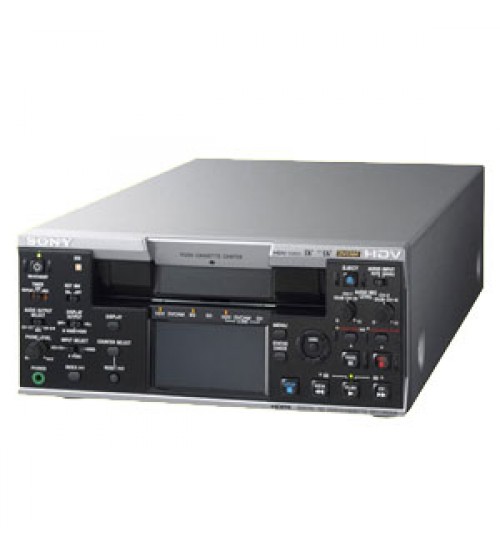 Lihat gambar lebih detail
The Perfect Choise for Cost-Effective HD Productions - the Sony HVR-M25P HDV 1080i VTRs
The HVR-M25P enable users to record and play back video in a choise of formats - HDV 1080i, DVCAM and DV. It also feature a down-conversion capability for 1080i recording, which provides the flexibility to record in either standard definition (SD) or high definition (HD) depending on your production needs.

One of the moset powerful features of these VTRs is their compatibility with standard cassettes in addition to mini cassettes, which provides extended recording time of up to 276 minutes. In addition, it provide a convenient function to copy not just the video and audio of an original tape via an i.LINK connection, but also the time code.

It is optimized for use with nonlinear editing systems thanks to their highly compact size and easy operations. However, the HVR-M25P provides additional powerful features such as built-in 27-inch type, 16:9 LCD monitor and an HDMI (High Definition Multimedia Interface) output for more demanding production environments.

The HVR-M25P offer a highly powerful, yet cost-effective tool for nonlinear editing systems that will serve both today`s production needs, as well as those of tomorrow.
Applications:
Nonlinear Editing
Dubbing with the Time Code Recording Capability
Viewing with Various Display Devices
Dubbing with XDCAM HD DEcks
HDV Format - HDV 1080i Specification:
The HDV 1080i specification of the HDV format features 1,080 effective scanning lines (interlace scanning system) and 1,440 horizontal pixels. It adopts the MPEG-2 compression format (MP@H-14 for video), which uses 8-bit digital component recording with a sampling rate of 4:2:0. MPEG-1 Audio Layer II is used as the audio compression format, allowing for two-channel recording with a sampling frequency of 48kHz/16-bit. The HDV 1080i specification provides high picture quality that can be used for HDTV program production.

FEATURES
Adopts HDV 1080i specification of the HDV format that features 1080 effective scanning lines and 1440 horizontal pixels
Compatible with existing DV tape and new DigitalMaster high-grade videocassette tape
Switchable recording and playback - HDV 1080i/DVCAM/DV SP and 60i/50i
Dual-size cassette mechanism to accept both mini and standard cassettes
Long recording time - a maximum of 276 minutes with the PHDVM-276 DigitalMaster standard cassette tape
Down-conversion playback capabilities from 1080i down to 480i, 576i, 480P, 576P, and 720P
Edge Crop Adjust function
i.LINK interface
Time code copy from external devices
Auto Repeat and Custom Repeat functions
Color bar and 1-kHz audio tone signal output
External control by the supplied wireless Remote Commander unit

Built-in tape cleaner for reliable operation
Built-in, 2.7-inch (*) type, Clear Photo LCD Plus monitor
HDMI (High Definition Multimedia Interface) output
DUPLICATE PLUS function for an easy duplication of video and audio along with the time code
MARKER BURN function to allow the 4:3 marker to be superimposed onto video output
Time counter
Time code preset
Status Check function for easy status or settings check on the LCD monitor
Assign Buttons function to assign frequently used functions to the buttons on the front panel
All Scan Mode to display all effective scanning lines in the screen

SPECIFICATIONS

Recording / Playback performance
Recording Format :
1080/60i, 1080/50i, 480/60i (NTSC), 576/50i (PAL)
Playout/down conversionformat :
1080/60i, 1080/50i, 480/60i (NTSC), 576/50i (PAL), 480/60P, 576/50P, 720/60P, 720/50P
Tape speed :
HDV / DV SP : Max. 18.812 mm.s
DVCAM : Max. 28.218 mm/s
Playback/recording time :
HDV / DV SP:
- Max. 276 min with PHDV-276DM Cassette
- Max. 63 min with PHDVM-63DM Cassette
DVCAM :
- Max. 184 min with PHDV-276DM Cassette
- Max. 41 min with PHDVM-63DM Cassette
Fast forward / rewind time :
Approx. 2 min with PHDV-276DM cassette

Input / output connectors / devices
Video input/output :
BNC x 2
Video Signal: 1 Vp-p, 75 ohm unbalanced, sync negative
S-video input/output :
Min-DIN 4-pin x 2
Y : 1 Vp-p, 75 ohm unbalanced, sync negative
C : 0.286 Vp-p (NTSC), 0.3 Vp-p (PAL), 75 ohm unbalanced
Component video output :
BNC x 3
Y : 1 Vp-p, (0.3V, sync negative)
Pr/Pb (Cr/Cb) : 700 mVp-p (100% color bar), input impedance 75 ohm
i.LINK :
4-pin
HDMI output :
19-pin (type A), video : 1080/60i, 1080/50i, 480/60i (NTSC), 576/50i (PAL), 480/60P, 576/50P, 720/60P, 720/50P, audio : PCM 48 kHz/16-bit
Phones :
Stereo minijack (3.5mm), 8 ohm loading
LANC :
Stereo mini-jack (3.5mm)
Audio Input :
RCA pin x 2
Input level : -10/-1/+4 dBu, Input impedance: min. 47 kohm unbalanced
Max. input level : -10:+18dBu (approx. 6Vrms), -2:+24 dBu (approx. 12.5Vrms), +4:+30 dBu (approx. 25Vrms)
Audio output :
Output level : -10 dBu (full bit -20dB), impedance 47 ohm unbalanced in 60i mode, -10dBu (full bit -18dB), impedance 47 ohm, unbalanced in 50i mode
Impedance : Max. 1 kohm unbalanced
LCD monitor :
2.7-inch type, approx. 211,200 dots (960x220), Clear photo LCD Plus

Genera

l

Mass

:

Approx. 4.3kg (9 lb 8 oz)
Power Consumption

:

12W (playback mode with LCD monitor on)
Operating Temperature :
5 to 40 C (41 to 104 K)
Storage Temperature :
120 tp 60 C (-4 to 140K)
Supplied Accessories :
Remote Commander, Power Cord, Size AA Batteries - 2pcs, Cleaning Cassette, Operating Instructions
Technical
Warranty
No Warranty