Rogue Gels Universal Lighting Filter Kit (Set of 20)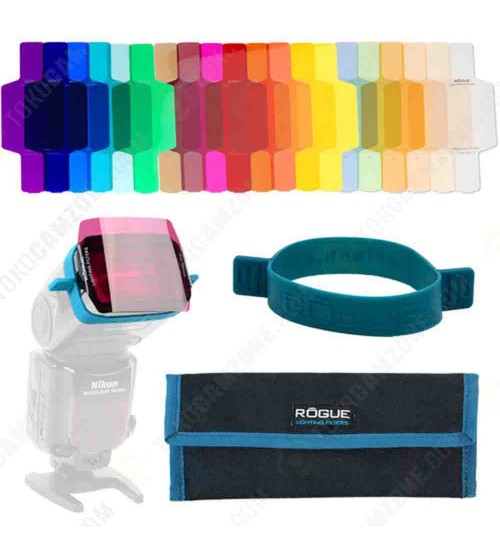 Lihat gambar lebih detail
Product Highlights
- 20 Color & Correction Filters
- 3 x 2.5" (76 x 63mm) Gels






The Rogue Gels Universal Lighting Filter Kit (Set of 20) from ExpoImaging makes it easy to bring a more dramatic color sense to all of your photographs. Chose from a variety of Lee filters for reds, yellows, blues, and greens to punch up an image with color, or create mood. Or, use the correction gels to balance your flash to ambient light. Flash coverage area measures 3 x 2.5" (7.6 x 6.3 cm)--total filter length with tabs is 6" (15.2 cm)

Each gel has the LEE name, the gel's measured f/stop loss value, and (when appropriate) the corresponding Kelvin color temperature correction and camera white balance icon, all printed directly onto the gel. Stated f/stop loss values are measured using a Sekonic light meter in a controlled test. These values compare the metered exposure of the bare flash with the metered exposure using the Rogue Gels placed over the flash head.

- Large variety of color and correction Lee filters (3 x 2.5" (7.6 x 6.3 cm) coverage area)

- Flexible Gel-Band included to attach gel to any shoe mount flash

- Correction filters:
1/2 CTB (3200K to 4300K); Full CTO (6500K to 3200K); 1/2 CTO (6500K to 3800K); 1/4 CTO (6500K to 4600K); Plus Green (cc30 Green); Heavy Frost Diffusion

- Color filters:
Yellow/Red Filters: Chocolate; Smokey Pink; Follies Pink; Bright Red; Rust; Dark Salmon; Oklahoma Yellow; Medium Yellow
Green/Blue Filters: Deep Purple; Special KH Lavender; Just Blue; Medium Blue Green; Steel Green; Moss Green

Rogue Photographic Design ROGUEGELS-U Specs

| | |
| --- | --- |
| Modifier Type | Color Filter |
| Dimensions | H: 3.0 x W: 2.5" / H: 76.0 x W: 63.0 mm |

Packaging Info
Package Weight
0.25 lb
Box Dimensions (LxWxH)
12.0 x 4.6 x 0.5"