Benro A1681TB0 Travel Angle Kits Aluminium (8Kg)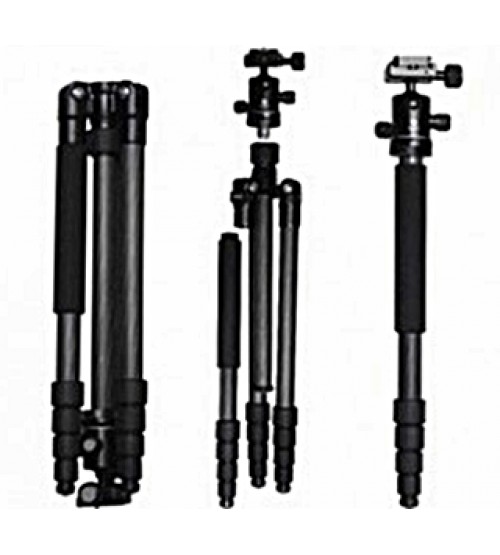 Lihat gambar lebih detail
Benro Aluminium Transfunctional Travel Angel A1681TB0
Benro has introduced the Transfunctional Travel Angel compact tripod series. Based upon the company's existing Travel Angel series 180 degrees fold-back leg design, it allows one leg to be detached and used as a monopod. The Benro A1681TB0 Travel Angel Tripod withB0 Ballhead is a professional quality tripod with lightweight, high-quality aluminium legs for top performance. One leg is removable for use as a monopod.
Featuring the same super squashed design in which the legs can be upturned and folded back for simple packing and carrying, the new line of Travel Angel tripods has an enhanced leg locking system, even better dust defiant technology, and an enhanced double protective finish.
And at this moment, added for even greater adaptability, the new Aluminium Transfunctional Travel Angel A1681TB0 features all the same great and superior features of the standard Travel Angel, plus the capability to switch from a full size tripod into a compact monopod rapidly and simply – without tools.
Specification - Benro Aluminium Transfunctional Travel Angel A1681TB0

Material - Benro Aluminium Transfunctional Travel Angel A1681TB0

Aluminium

Leg sections

4

Max. Diameter (mm)

25

Min. Diameter (mm)

15

Max. Height (mm) - Benro Transfunctional Travel Angel Tripod

1620

Min. Height (mm)

475

Folded Length (mm)

475

Benro ball head - Benro Transfunctional Travel Angel Tripod

B-0

Top Plate or Base Plate Diameter

2 in

Head Mount Thread Size

1/4-20

Quick release Type - Benro Transfunctional Travel Angel Tripod

Plate PU50

Product or Folded Height

3.5in

Weight

0.6lbs / 0.27kg

Max. Load - Benro Aluminium Transfunctional Travel Angel A1681TB0

17.6lbs