Blackmagic Pocket Cinema Camera 6K Pro ( Canon EF )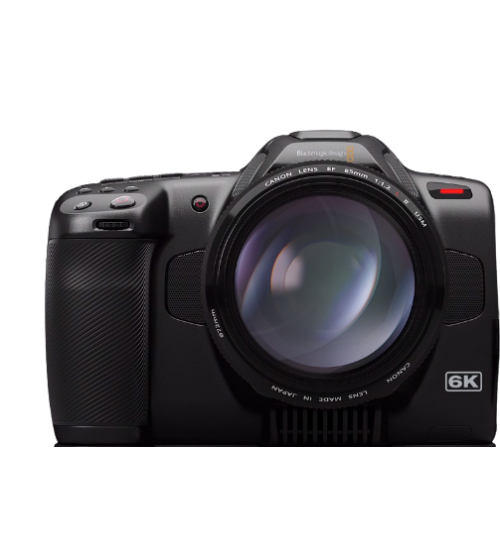 Lihat gambar lebih detail
Blackmagic Pocket Cinema Camera 6K Pro
Feature and Spesification
The Blackmagic Pocket Cinema Camera 6K Pro
includes additional pro features such as built in
2, 4 and 6 stop ND filters, adjustable tilt HDR
LCD with a bright 1500 nits that's ideal for use
in bright sunlight. It also includes two mini XLR
audio inputs and a larger NP-F570 style battery.
Multifunction Grip with Fingertip Controls
The multifunction handgrip features an ergonomic design that puts important functions such as ISO, B and shutter buttons at your fingertips. There's even a scroll wheel under your index finger for making quick iris adjustments! Additional controls go beyond those found on a DSLR, which means you don't have to go hunting through menus on a tiny screen to find a command! The Blackmagic Pocket Cinema Camera features easy to reach recording and still buttons that are placed exactly where you expect, including user assignable function keys allowing buttons for high frame rate, focus zoom, false color and more. The Blackmagic Pocket Cinema Camera 6K Pro also adds extra ND filter controls.
High Resolution Cinematic Digital Film Sensor
The Blackmagic Pocket Cinema Camera 4K features a native sensor resolution of 4096 x 2160, while the 6K models have a native resolution of 6144 x 3456. Whether you're shooting in bright sunlight or in almost no light at all, the 13 stops of dynamic range with dual native ISO up to 25,600 provide stunning low noise images in all lighting conditions. Plus the 6K models feature a larger Super 35 sensor that allows shooting with a shallow depth of field and anamorphic lenses. All models let you shoot up to 60 fps in full resolution or 120 fps windowed. An amazing sensor combined with Blackmagic color science means you get the same imaging technology as the most expensive digital film cameras.
Compatible with Cinema and Photographic Lenses
With 3 models, you can choose between EF or MFT lenses, making Blackmagic Pocket Cinema Camera compatible with the largest range and most popular lenses in the world! The 6K models feature an EF lens mount so you can use lenses you already own from other cameras such as DSLR, URSA Mini Pro or even the original Blackmagic Cinema Camera! You can use commonly available photographic lenses that provide incredible creative choice and wonderful feature film quality lens effects. The active lens mount lets you adjust focus and iris from the buttons on the camera or the touch screen. For even greater flexibility, the MFT lens mount on the 4K model can be adapted to PL, C, EF or other lens types
Built in ND Filters
The Blackmagic Pocket Cinema Camera 6K Pro features high quality, motorized IR ND filters that let you quickly reduce the amount of light entering the camera. Designed to match the colorimetry and color science of the camera, the 2, 4 and 6 stop filters provide you with additional latitude even under harsh lighting. The IR filters have been designed to filter both optical and IR wavelengths evenly, eliminating IR contamination of the images. Activation buttons are located on the rear of the camera body, placed within easy reach of your thumb from the multi function hand grip. User selectable filter settings can even be displayed as either an ND number, stop reduction or fraction on the LCD!
Shoot Incredible High Dynamic Range (HDR) Images
The distance between the lightest and the darkest parts of an image is called dynamic range and is measured in stops. Pocket Cinema Cameras have an incredible 13 stops of dynamic range which means they preserve more detail in the lightest and darkest areas of an image than simple video cameras can. This allows you to set exposure for an indoor scene such as a cafe and still retain the details of bright outdoor light coming through a window. You also get more colors than the standard DCI-P3 colorspace used for feature films. Plus DaVinci Resolve Studio is included with the camera, so you get total creative freedom with full exposure adjustment and recovery controls when color grading!
Touchscreen for Fast Setup
The large LCD touchscreen displays critical information on the heads up display, or HUD, as well as access to camera setup menus. The HUD lets you see and adjust settings such as the frame rate, iris, timecode, shutter angle, white balance, ISO, audio levels and more with a single tap. You can show or hide the HUD by simply swiping up or down. Adjust settings such as white balance simply by touching the WB indicator, or change the audio levels by touching the audio meters. Everything is interactive, so you can tap any item and instantly change settings without searching through confusing menus! You can also access settings such as the digital slate, to quickly add metadata to any shot.
Wireless Bluetooth Camera Remote Control
If you're positioning the camera on the end of a boom, or in another hard to reach location, you can get full control via Bluetooth from up to 30 feet away. You can download the Blackmagic Camera Control app for your iPad or use third party apps such as Bluetooth+ or tRigger on your iOS and Android devices. There's even a free developer SDK with sample code available from the Blackmagic Design developer website, so you can create your own remote camera control and digital slate solutions! Imagine building an app that can jam sync timecode and trigger all cameras to record at the same time. The possibilities are endless!