Brinno TLC 200 Pro Time Lapse Camera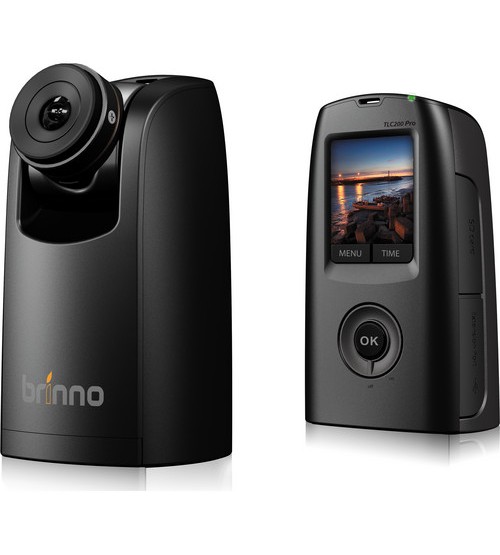 Lihat gambar lebih detail
The 1/3", 1.3MP High Dynamic Range (HDR) image sensor helps produce great shots with high contrast—even in challenging lighting conditions, such as those encountered at night. It can capture a greater dynamic range between the lightest and darkest areas of an image than some standard CMOS sensors can, resulting in a more accurate representation of the range of intensity levels seen by the naked eye. High, medium, and low HDR settings can be selected. The sensor records still images and HD time-lapse videos at 1280 x 720 resolution.
Time-Lapse Videos
Instantly creates HD videos from photos captured in time-lapse mode. No stitching or other post-processing is required, and thousands of photos can be combined into one video. Choose a time interval of 0.3 sec or select one of many intervals from 1 sec - 24 hr to see change over a given period, whether you're recording events, projects, or the natural world. There's also a setting for shooting 3-5 photos in 1 sec.
TIMER Function
Allows you to program specific times when the camera will wake up and begin recording and when it will shut off. This means you will have complete control without having to be there to turn the camera on—just set it and forget it.
Interchangeable Lenses
Accepts interchangeable CS-mount lenses, including the supplied 19mm (35mm equivalent), wide-angle, aspherical glass lens, which offers a fast f/2.0 aperture for effective low-light shooting and shallow depth-of-field effects. This lens, which comes pre-mounted on the camera, features a 112° field of view and can also rotate 120°, enabling panoramic image capture. Optional lenses include an 18-55mm f/1.2 with a 45mm diameter and a 24-70mm f/1.4 with a 32mm diameter. The lenses can be mounted and removed via the included screwdriver and screw. An optional IR filter can also be added.
LCD Monitor
Equipped with a 1.44" TFT LCD screen, which allows for accurate targeting of subjects and precise framing of scenes. You can also turn the time stamp and LED indicator options on and off. When on, the LED indicator will flash while capturing each frame. The LCD allows you to set a date and time and choose one of the following settings for the frequency band filter: none, 50 Hz for Europe, and 60 Hz for USA. Additionally, it shows you the remaining battery life and firmware version, and tells you whether the SD card is full, missing, or in need of replacement. The monitor turns off after 50 sec of inactivity, in order to save power.
Scene Settings for Night Shooting
For a standard twilight scene, program the camera for an exposure time of up to 1 sec. For a night scene, try 2 sec. When photographing the moon, 2 sec is optimal—unless you're shooting in ASAP mode, in which case 4 sec is best. When shooting stars, choose 4 sec, or 8 sec in ASAP mode.
Low-Light Sensitivity
Large pixel size of 4.2um and notable low-light sensitivity of 3650mV/lux-sec enable recording of sharp images in dim lighting situations. The updated firmware allows for fast adjustment to greater variations in light.
Playback on Mobile Devices
Using the optional Brinno ABR100 or another compatible card reader, play your videos on your smartphone or tablet. Videos are compressed into smaller files to make them easy to play and share.
Image Quality
Good: High compression rate produces the least image data of the 3 settings, so it does not yield the highest quality but works best for long capture periods
Better: Moderate compression rate results in more image data and works well for general use
Best: Low compression rate produces the maximum amount of image data to achieve the highest quality
Memory
Camera captures files to SD or SDHC memory cards up to 32GB in capacity, and includes a 4GB SDHC card.
Accessory Mounting and Connection
Has a tripod mount on the bottom, as well as an extension connector for the attachment of the optional Brinno Time-Lapse accessories, which include the Shutter Line and Motion Sensor.
Imaging
Resolution
1.3 MP sensor
1280 x 720 / 0.9 MP still images using optional Shutter Line
Aspect Ratio

16:9

Sensor

1/3" HDR

File Formats

JPEG

Pixel Size

4.2 um

Light Sensitivity

3650 mV/lux-sec
Optics
Lens
Aspherical glass lens
Focal length: 19 mm (35mm equivalent)
Aperture: f/2.0
Angle of view: 112°
Zoom

With optional 18-55mm f/1.2 and 24-70mm f/1.4 lenses

Lens Mount

CS Mount

Focus Type

Manual

Focus Range
19 mm f/2.0 lens:
Manual focus: 0.4" / 1 cm to infinity
Default setting: 15.75" / 40 cm
Rotation

120° vertical
Shooting Controls
Sensitivity

ISO sensitivity not specified by manufacturer

Shutter Speeds

From less than 1 sec - 4 sec

Exposure Modes

Daylight, twilight, night, moon, star

Manual Controls

Exposure, saturation, contrast, sharpness

White Balance
4000 to 7000K Auto, 5000K day, 7000K shade, 6000K cloudy, 4000K fluorescent light (cool), 3300K fluorescent light (warm), 2800K tungsten light
All color temperatures are approx.
Burst Capability

ASAP mode captures 3-5 photos in 1 sec

Interval Recording
Yes, with automatic generation of time-lapse video
0.3 sec, 1 sec, 2 sec, 3 sec, 5 sec, 10 sec, 20 sec, 30 sec, 1 min, 5 min, 10 min, 1 h, up to 24 h
Shooting Modes
Time-lapse
Stop motion using optional Shutter Line ATS110
Motion-activated using optional Motion Sensor ATM100
Webcam
Yes, can function as webcam via connection to computer and installation of free webcam software
See Brinno's website for suggested software

Memory
Memory Card Type
SD/SDHC card up to 32 GB accepted
4.0 GB SDHC card supplied
A/V Recording
| | |
| --- | --- |
| Recording Formats | AVI |
| Video Recording | Yes, from time-lapse images |
| Video Resolution | 1280 x 720p |
| Frame Rate | 1, 5, 10, 15, 20, 30 fps |
| Length | Maximum video length: 8192 to 20480 frames, depending on time interval setting |
| Audio Recording | No |
Viewfinder/Display
| | |
| --- | --- |
| Viewfinder Type | LCD monitor |
| Viewfinder Coverage | Not specified by manufacturer |
| Display | 1.44" / 3.7 cm TFT LCD monitor |
Connectivity/System Requirements
Connectivity

5.0 VDC-in micro-USB connector

System & Software Requirements
For transfer/viewing on PC: Windows XP or later
For viewing on smartphone with OTG Card Reader: OTG-equipped smart device
Micro USB cable
Environmental
| | |
| --- | --- |
| Durability | Waterproof with optional ATH120 housing |
Power
| | |
| --- | --- |
| Battery Type | 4 AA batteries (included) |
| Power Supply | For long term use, attach optional 5.0 VDC external power supply to Micro USB connector |
Physical
| | |
| --- | --- |
| Dimensions | 2.5 x 2.0 x 4.2" / 6.4 x 5.2 x 10.7 cm |
| Weight | 4.9 oz / 140 g without batteries |
Packaging Info
| | |
| --- | --- |
| Package Weight | 1.2 lb |
| Box Dimensions (LxWxH) | 6.6 x 3.8 x 2" |