Feiyu SPG Live 3-Axis Smartphone Gimbal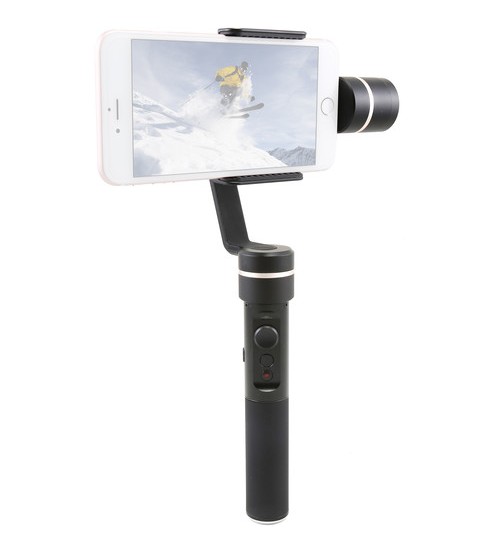 Lihat gambar lebih detail
PRODUCT HIGHLIGHTS
Auto-Switching Horizontal/Vertical Mode
Run/Stop Camera from Gimbal Handle
App-Based Calibration & Other Functions
iPhone & Android Compatibility
Limitless 360° Pan / Slip-Ring Motor
Folding Design for Streamlined Storage
Quick-Release Phone Cradle Adjustment
Soft Silicone Grip with 2-Button Control
Up to 8-Hour Runtime on 1 Li-Ion Battery



The SPG Live 3-Axis Smartphone Gimbal with Vertical Mode from Feiyubrings automatic horizontal-to-vertical switching to the gimbal table. The SPG Live features a smart vertical mode wherein a slow tilt from the horizontal re-orients the screen 180°. Besides this blogger-preferred vertical mode, the SPG Live offers panning, panning and tilting, and lock modes. Its slip-ring motor enables limitless 360° panning, and its cradle has dual-sided adjusting for precise phone balancing.

Use the FeiyuTech app to trigger automatic gimbal calibration, to update firmware, and to select various parameters. The SPG Live features a comfortable handle with a joystick and two additional control buttons. Its rechargeable lithium-ion battery offers a runtime of up to 8 hours. Switching between panning, panning and tilting, and lock modes on the SPG Live is accomplished with taps of the control button. The SPG Live handheld gimbal folds for streamlined storage.

Compatible Smartphones

iPhone iPhone 7 Plus/7/6s Plus/6S/6/SE/5/5C/5S
Huawei P9/P9 Plus
Xiaomi Mi 5
Meizu MX6
Samsung Note 5/S7
Other similarly-sized smartphones

Modes/Functions

Panning Mode

The phone moves left or right, following your handheld movement; tilting and rolling positions are fixed

Panning and Tilting Mode

The phone moves left or right, and tilts up and down following your handheld movement; the rolling position remains fixed

Lock Mode

The phone stays in its chosen orientation; panning, tilting, and rolling positions remain fixed

Cellphone Portrait Mode

The camera is in the vertical position when used in this smart vertical mode

Reset

Resets the tilting axis to its initial orientation and initial mode

Standby

In standby mode, the gimbal remains powered-up but the motor is not operational

Feiyu SPG Live Specs

Maximum Tilt Angle
320°
Maximum Roll Angle
320°
Panning Range
360°
Increments
Tilting: 2-75°/s
Panning: 3-150°/s
Usage Times
8 hours
Battery
22650-type lithium-ion
Smartphone Compatibility
Width: 2.2-3.1" (55-80 mm)
Weight: 3.9-8.1 oz (110 to 230 g)
Weight
Without Battery and Smartphone: 12.5 oz (355 g)

Packaging Info
Package Weight
2.55 lb
Box Dimensions (LxWxH)
13.2 x 7.7 x 2.0"
Technical
Warranty
Non Warranty