FujiFilm M Mount Adapter for M Mount lenses on the X Mount camera body (X-Pro1 & X-E1)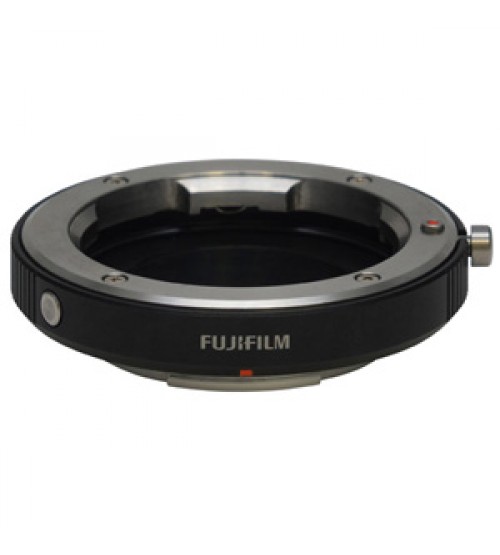 Lihat gambar lebih detail
Further expanding the functionality of the X-Pro 1 camera, Fujifilm has unveiled that it will release a highly-anticipated M-mount Adapter for the camera that allows a much wider array of lenses to be used with the camera body. This accessory will be specially made to enhance the experience of taking photos with the professional camera, allowing users to capture images with lenses made by such esteemed manufacturers as Leica, Voigtlander, Carl Zeiss and RICOH.
The adapter will be built with three main parts to create its high-precision structure: An aluminum mount for the body, a stainless steel mount for the lens and an aluminum central tube. It also features electronic signal contacts and a Function button. The adapter fits any of the newly available lenses perfectly to the camera body, without sacrificing design or build quality.
The adapter's integrated electronic contacts communicate signals to the camera body. By pressing the Function button, you can bring up the Mount Adapter Settings mode instantly, making for easy operation when registering a new lens or swapping lenses, without having to go into the X-Pro 1's menu settings—and thus, without missing a shot. The Function button allows you to choose the necessary settings and functions of your attached lens easily, including "Shoot Without Lens," various focal length settings, image corrections and more. A firmware update will be required in order to use the electronic contacts and Function button correctly, and will be available early June 2012.
The Optical Viewfinder displays a bright frame that changes according to the defined focal length for easy, hassle-free shooting—allowing you to focus more on the photograph and not so much on the camera settings.
If you have a Fujifilm X-Pro 1 camera and were looking for more lens options, or if you were considering the camera but were hesitant because of the limited lens selection, then this forthcoming M-mount adapter should more than open things up for creative lens combinations and shooting styles. Effortlessly switch from a classic portrait lens, like the Carl Zeiss T*85mm f/2.0 ZM, to a super-wide 15mm f/4.5 from Voigtlander for landscapes, and back again—without missing a defining moment or gorgeous smile.
Construction
3-piece: Aluminium mount for body, stainless steel mount for lens, aluminum central tube
Sensor Distance
27.8mm lens mount to sensor distance
Lens Profiling
Up to 6 lenses; 4 presets: 21mm, 24mm, 28mm and 35mm lenses; 2 optional settings for additional optics
Distortion Correction
3 levels to combat barrel distortion on wide-angle and pincushion distortion on telephoto: Strong, Medium, Weak; plus Correction Off option
Peripheral Illumination Correction
11 levels of correction applicable from +5 to -5, including 0
Color Shading Correction
Corrections applicable to red / cyan and blue / yellow shading from -9 to +9 relative to green channel
Connectivity
Electronic connections and Function button
Firmware
v. 1.10 or later
Dimensions
2.3 x 0.6" (5.9 x 1.5 cm)
Weight
2.3 oz (65 g)
Viewfinder Compatibility
Compatible with Hybrid Multi Viewfinder
Lens Compatibility

Leica M: Elmarit M21 mm F2.8 ASPH., ELMARIT-M 24mm F2.8 ASPH., Elmarit M 28mm F2.8 (3rd 1979-), ELMARIT-M 28mm F2.8 ASPH., Summicron M 35mm F2 (1st 1958-), Summicron M 35mm F2 (2nd 1969-), SUMMICRON-M 35mm F2 ASPH., Summaron M 35mm F2.8, Noctilux 50mm F1, Sumilux 50mm F1.4 (2nd 1961-), SUMMILUX-M 50mm F1.4 ASPH., Summarit 50mm F1.5, Summicron 50mm F2 (4th 1979-), Elmar 50mm F2.8 (1st 1957-), Elmar 50mm F2.8 (2nd 1995-), Sumilux 75mm F1.4, Elmarit-M 90mm F2.8 (2nd 1980-), Elmar 135mm F4
Voigtlander M: NOKTON classic 40 mm F1.4, NOKTON 50 mm F1.1, HELIAR classic 75 mm F1.8
Carl Zeiss M: Distagon T*15mm F2.8 ZM, Distagon T*18mm F4 ZM, Biogon T*21mm F2.8 ZM, C Biogon T* 21mm F4.5 ZM, Biogon T*25mm F2.8 ZM, Biogon T*28mm F2.8 ZM, Biogon T*35mm F2 ZM, C Sonnar T*50mm F1.5 ZM, Planar T* 50mm F2 ZM, Sonnar T*85mm F2 ZM, Tele-Tessar T* 85mm F4 ZM
Leica L: Summaron 3.5 cm F3.5, Elmar 5 cm F3.5, Elmar 5 cm F2.8, Sumarit 5 cm F1.5
Voigtlander L: ULTRA WIDE-HELIAR 12mm F5.6 Aspherical 2, SUPER WIDE-HELIAR 15mm F4.5 Aspherical, COLOR-SKOPAR 21mm F4, SNAPSHOT-SKOPAR 25mm F4, COLOR-SKOPAR 28mm F3.5, ULTRON 28mm F1.9, COLOR-SKOPAR 35mm F2.5, ULTRON 35mm F1.7, COLOR-SKOPAR 50mm F2.5, NOKTON 50mm F1.5, HELIAR 50mm F2, HELIAR 50mm F3.5, COLOR-HELIAR 75mm F2.5, APO-LANTHAR
RICOH L: GR28 28mm F2.8, GR21 21mm F3.5

†L-M conversion adapter for L lenses sold separately