Giottos MH 7012-652 BallHead (6kg)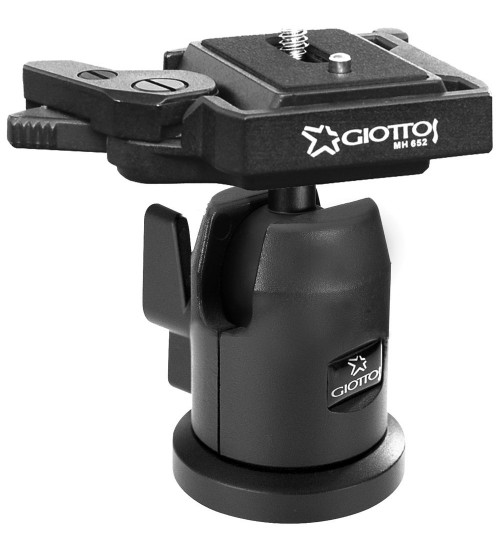 Lihat gambar lebih detail
Each Giottos head has been carefully designed to work with a specific tripod. They are engineered to position the camera precisely in the required shooting position with a minimum of fuss for optimum results.
The heavily anodized aluminum ball lets you make camera positioning adjustments more smoothly than ever before by eliminating all vibration and skipping so you can frame the perfect photograph the first time without wasting precious seconds on micro corrections.
Add ergonomic design and advanced precision engineering to guarantee high performance locking and your camera is not only quickly adjusted but also rapidly and securely locked where you want it.
Professional Heavy Duty Ball and Quick Release
Horizontal adjustable moving Quick Release plate
Safety bolt prevents accidental release of plate
Interchangeable 1/4" and 3/8" camera fixing screw
1/4" and 3/8" thread fixing in base
One-touch lock for platform and pan movement
Two bubble levels
Locking knob
Fixed 90 degree position for portrait mode
Construction : Die Cast Aluminum
Horizontal adjustable moving quick Release plate
Interchangeable 1/4" and 3/8" camera fixing screw
1/4" and 3/8" thread fixing in base
One-touch lock for platform and pan movement
Two bubble levels
Safety button
Locking knob
Fixed 90 degree position for portrait mode
Weight: 596g
Height: 110m
Base Diameter: 60mm
Loading capacity: 6kg