Glidecam Smooth Shooter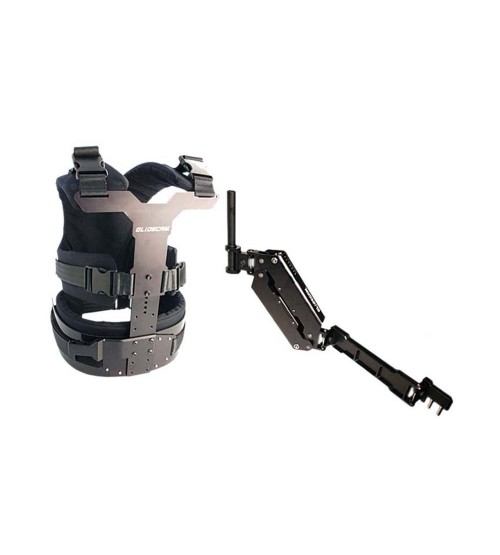 Lihat gambar lebih detail
Glidecam's Smooth Shooter System is designed to be the first truly affordable professionally inspired camera stabilization system. Designed to work with Glidecam's existing 2000 and 4000 Pro units, as well as the HD-2000, HD-4000, XR-2000 and XR-4000 units. The Smooth Shooter is the perfect solution for the prosumer video camera weighing up to 10 lbs. Running, going up and down stairs, and even shooting from moving vehicles is all possible without camera instability or shake.
Simply attach a compatible unit to the Smooth Shooter's patented Dyna-Elastic arm, you will be able to achieve the type of tracklike footage you've always dreamed of. The distribution of weight across your whole body (instead of just in the arm) will allow you to shoot for extended periods of time.
Track-like Imagery

Glide effortlessly over rough terrain, giving your footage the much needed edge clients love.
Dyna-Elastic Arm

Lightweight and Strong, the Dyna-Elastic wields two high-carbon alloy springs capable of holding camera loads up to 10 lbs. The Smooth Shooter's arm can be moved up and down, absorbing vertical shock, which results in ultra-smooth camera movement.
Inter-X-Change System

Changing springs is easy with the Inter-X-Change System. The Arm can be set to use one or two springs, capable of holding 9 and 18 lbs. respectively.
Smooth Shooter Vest

The adjustability of the Smooth Shooter Vest ensures it will fit almost any body type. The vest makes sure weight is distributed evenly across the whole upper body, resulting in less fatigue. The quick release buckles allow for quick and easy removal, while the seven-panel seat belt strapping guarantees a tight fit.
Construction
Aluminum, steel, carbon alloy springs
Vest
Glidecam Smooth Shooter Support Vest
Arm
T6 Aluminum Dyna-Elastic Arm
Arm Boom Range: 14.75"
Head Assembly/Top Stage
No
Quick Release
No
Docking Bracket
No
Dovetail Plate
No
Gimbal
Free-floating, precision Gimbal
Dynamic Spin
360-degree panning and tilting
Post
Telescoping (no tools required)
Monitor
Not included – optional
Battery
Not included – optional
Battery Mount
No
Optional Accessories
Glidecam 2000 Pro or 4000 Pro
L4-PRO 4" Active Matrix LCD Monitor
VBP-12LCD Battery Attachment (to power LCD monitor)
Technical
Warranty
Non Warranty