E-IMAGE EG-03A2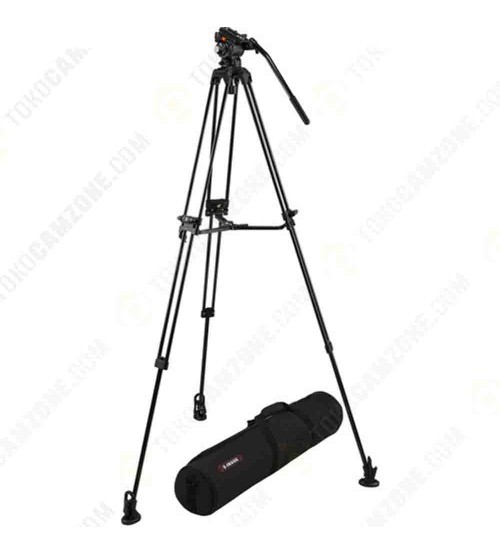 Lihat gambar lebih detail
The E-Image 2-Stage Aluminum Tripod with GH03 Head supports cameras and accessories weighing up to 11 pounds. The head and legs feature a 75mm ball/bowl, which provides a wide platform. The legs are made from aluminum and feature three sections with mono-lock leg locks. The mono-lock design allows you to lock and unlock each leg section using only one rotating locking lever. The tripod legs are height-adjustable from 26 to 61".
The GH03 head features an Easy Lock baseplate system that combines the balance adjustment of a sliding baseplate with the ease of a quick release system. Pan drag and counterbalance are both fixed, while tilt drag is adjustable via a dial on the side of the head. The head features a built in 1/4"-20 accessory socket for available monitor support arms or other accessory items. A padded carry bag with a shoulder strap is included.
- The Easy Lock baseplate provides the balance adjustment range associated with a sliding balance plate while combining the ease of a quick release, as you can pop the camera (on the Easy Lock plate) into the top of the fluid head without having to support the camera while lining up the plate with the head. Easy to pop in, it stays secure until you release it, and you maintain the sliding balance adjustments.
- The mono-lock design allows you to lock and unlock the three sections of each leg using only one locking lever. The rotating lever provides a robust clamp mechanism that secures the legs and prevents them from slipping once locked. The single lever on each leg allows you to quickly lock the leg height without having to use two levers, making for a quicker workflow and sparing you from bending down to open a bottom leg lock.
- The legs feature dual-spiked feet that provide solid purchase in soft surfaces when the legs are spread wide or extended to full height.
- The rubber feet attach to the spiked feet for working on delicate or hard surfaces.
- The Easy Lock camera plate features a guided sled with a locating pin, and supports both 1/4"-20 and 3/8"-16 camera tie-down screws (included).
General
Leveling Bubble/Illuminated
Yes/no
Weight
16 lb (7.3 kg)

Head
Load Capacity
11 lb / 5 kg
Counter Balance System
Fixed
Quick Release/Wedge Plate
Easy Lock System
Balance Plate
Easy Lock
Tilt Drag
Variable
Tilt Range
-60 to 90°
Tilt Lock
Yes
Pan Lock
Yes

Legs
Load Capacity
88 lb / 40 kg
Material
Aluminum
Head Attachment Fitting
75 mm bowl
Minimum Height
26" (66.0 cm)
Maximum Height
61" (155 cm)
Leg Stages/Sections
2/3
Leg Lock Type
Mono-lock, rotating lever
Spiked/Retractable Feet
Spiked feet

Packaging Info
Package Weight
14.5 lb
Box Dimensions (LxWxH)
39.0 x 9.0 x 8.0"