Samsung Flip (WM55H) 55 Inch Interactive Digital Flipchart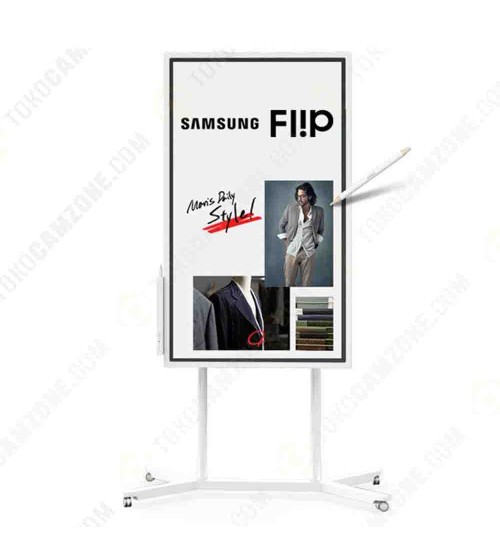 Lihat gambar lebih detail
- Interactive display features from note-taking to intuitive navigation
- Versatile connectivity and an ergonomic design
- Innovative touch display technology for smooth writing plus UHD picture quality
- Portable, wheel-based stand

(sold separately)
Draw, Write, Inspire
Enjoy the smooth, familiar feel of traditional writing in a versatile digital format, with a variety of colors, styles and widths available. Up to 4 people can write simultaneously, using any object as a writing tool.
Capture, in Collaboration
Through Samsung Flip's broad connectivity, you and your team can share and make notations within a variety of content files, all maintained at optimal visual quality.
Protect Your Valuable Ideas
Ensure that your game-changing ideas remain in the right hands through a reinforced security system. Each in-office team can set a unique numeric password to lock the display and remove critical content from view.
Design, for Diversity
Saving a company's logo to the screen, locking the screen to protect information and choosing a screen template from Samsung library are the various ways to create a unique viewing experience to fit every business need.
Enjoy Versatile Connectivity
Samsung Flip's connectivity empowers a fully synchronized, user-friendly collaborative experience. Align your personal devices with the central screen for interactive content visibility, notation and sharing.
Professionally Showcase Your Work
Adjust to varying huddle room dynamics without sacrificing comfort. Featuring a versatile pivot mode and ergonomic stand, each Flip display can configure to a portrait or landscape orientation to match your collaborative needs.
Sync Viewing, Sync Control
The touch out control functionality allows users to sync their personal devices to the Flip for real-time viewing and control. Changes made on the central screen will automatically transmit to the user's personal device, and vice versa, for efficient, matched viewing.
Open, and Share
Open Microsoft Word, PowerPoint or PDF with ease with a built-in document viewer and extend the information to another large digital display for bigger audiences with Samsung Flip's wireless screen sharing functionality.
Pioneer thought, Style and Comfort
The Flip's sleek, gray design positions any environment as sophisticated and forward thinking. With an ergonomic tilt of 4.5° and a spacious front tray and pen holder to house essential meeting tools, you and your team can stay comfortable and organized to focus on what's important.
Navigate Touch-Driven Communication
InGlass™ technology ensures real-time feedback and speeds without delay. This allows users to experience smooth writing or drawing, equivalent to that of working on traditional paper.
CHARACTER GENERATION
Input / Output
HDMI & USB
Sistem Requirements
ProcessorCA72 Quad(1.7GHz)
TELEPROMPTER
Dimensions
1469mm X 924mm X 210mm
Weight
34.9 Kg
VIDEO STREAMING
Audio Input
Built in Speaker (10W x 2)
Power Input
AC 100~240V 50/60Hz
Storage
8GB Internal Storage (2.65GB Occupied by O/S, 5.35GB Available
Technical
Display Size
3840 x 2160 (Landscape) 2160 x 3840 (Portrait), 60Hz E-LED
Warranty
-