Manfrotto Nitrotech N8 Video Head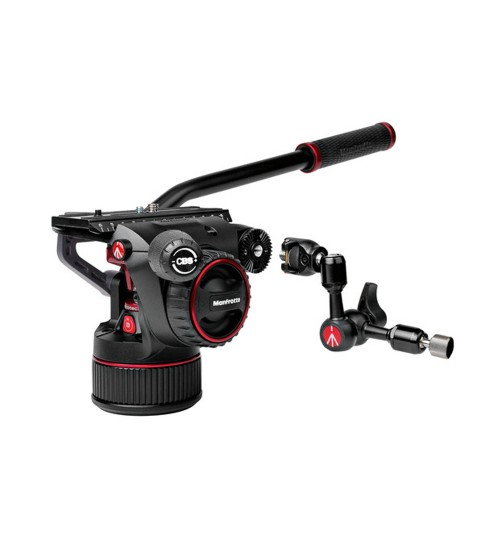 Lihat gambar lebih detail
Product Highlights
Supports Up to 17.6 lb

Innovative Nitrogen-Piston Mechanism

75mm Flat-Base Head

Precision Counterbalance System

Illuminated Bubble Level

Left-Side Controls
The Manfrotto Nitrotech N8 Video Head features an innovative, continuous counterbalance system based on a nitrogen-piston mechanism. Unlike heads with stepped levels of counterbalance, the Nitrotech N8 can be precisely adjusted to the weight of your camera rig. Adjust the counterbalance by twisting the knob on the left side towards the front of the head. The knob itself can be extended with a pull, adding room useful with a wider camera. With a maximum payload capacity of 17.6 pounds, the Nitrotech N8 is designed to be used with a variety of video or DSLR/MFT camera rigs. This 75mm flat-base head can be used with a half-ball adapter (available separately) for maximum flexibility in mounting to tripods, sliders, hi-hats, or other supports.
The Nitrotech N8 includes several pro-style features for reliable, efficient use of the head. The included camera mounting plate locks in from the side, and it has a sliding design to help balance the rig on the head. Smooth panning and tilting moves are enabled by the Nitrotech N8's variable fluid drag systems. A push-button illuminated bubble at the rear of the head lets you see at a glance if the head is leveled. Unlike some other Manfrotto heads, the N8's controls are on the left side of the head, freeing your right hand to operate the panhandle.
Looking to lessen the weight of accessories on your camera rig? Attach your monitor, rangefinder, light, flag, etc. to the 3/8"-threaded Easy Link Connector built into the side of the Nitrotech N8. This transfers the weight of the accessory away from the camera and to the head, making the camera less top-heavy.
Innovative nitrogen-piston counterbalance system provides precise adjustment based on your camera rig's weight

Fluid drag system for smooth pan and tilt moves

Lightweight head with 75mm flat base can be used with a half-ball adapter (available separately) for flexible configurations when using tripods, sliders etc.

An Easy Link Connector enables the attachment of an accessory to the head itself, reducing weight on the camera body

Left-sided controls free your right hand for operating the panhandle
Style
Material
Aluminum
Technical
Warranty
Non Warranty