Meike MK580 Flash for Canon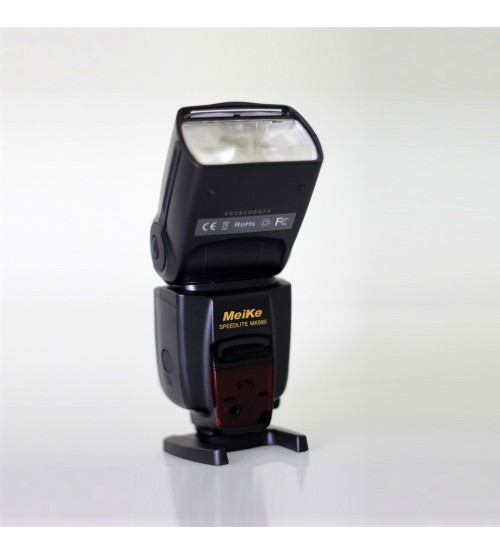 Lihat gambar lebih detail
Product Descriptions
It's an EOS-dedicated, high-output flash unit automatically compatible with E-TTL II, E-TTL and TTL autoflash. It can serve as an on-camera flash as well a master unit or a salve unit in a wireless multiple-speedilite system.
Fuctions
The basic operation is as easy as with normal AE shooting.
When the MK580 is attached to an EOS camera, almost all automatic exposure control for flash photography is handled by the camera. It is almost the same as using the camera's built-in flash if it has one. You can think of MK580 as a built-in high-output flash, but attached externally.
It becomes automatically compatible with the camera's flash metering mode (E-TTL II, E-TTL and TTL).
In accordance with the camera's flash control system, the speedlite controls the flash automatically in the respective flash metering mode.
1.E-TTL II autoflash (evaluative flash metering with perflash reading/lens distance information)
2.E-TTL autoflash (evaluative flash metering with preflash reading)
3.TTL autoflash (off-the-film metering for real-time flash metering)
Basic Operations
Fully Automatic Flash Shooting
When you set the camera's shooting mode to "program AE" or "full auto", E-TTL II or E-TTL fully automatic flash will make it as easy as normal AE shooting in the "program AE" or "full auto". Using E-TTL II and E-TTL Autoflash in the Shooting ModesJust set the camera's shooting mode to , or , you can use E-TTL II/ E-TTL autoflash.
Specifications:
Type
On-camera, E-TTL II/E-TTL/TTL autoflash speedlite
Campatible Cameras
Type-A EOS cameras(E-TTL II/E-TTL autoflash);
Type-B cameras(TTL autoflash)
Guide Number
42(105mm, ISO 100)
Flash Coverage
24-105mm (14mm with wide panel)
Auto Zoom
Manual Zoom
Swinging/tilting flash head(bounce flash)
Exposure Control System
E-TTL II/ETTL autoflash; Auto/Manual External Metering; Manual Flash
Flash Exporesure Compansation
Manual, FEB; +3 to -3 Stops in 1/3 stop increments(manual and FEB can be conbined)
FE Lock
With button or <*> button
Stroboscopic Flash
Provided(1-199Hz)
Flash Exposure Confirmation
Pilot Lamp Light
Recycling Time/Flash-ready Indicator
approx. 0.1-5sec
Quick Flash
approx. 0.1-2.5sec
Transmission Method
Optical Pulse
Channels
4
Wireless Options
OFF, Master and slave
Transmission Range(app.)
Indoors, 12-15m/39.4-49.2ft.
Outdoors, 8-10m/26.2-32.8ft.
Master unit reception angle: -40 ~ +40 horizontal, -30 ~ +30 vertical
Controllable Slave Groups
3(A,B and C)
Flash Ratio Control
1:8-1:1-8:1
Slave-ready Indicator
AF-assist beam blinks
Modeling flash
Fired with camera's depth-of-field preview button
Linkable AF Points
1-45 AF points(28mm or longer focal length)
Effective Range(App.)
At center, 0.6-10m/ 2.0-32.8ft. periphery, 0.6-5m/2.0-16.4ft.
Technical
Warranty
Non Warranty