Meike for Fuji 35mm f/1.7 APS-C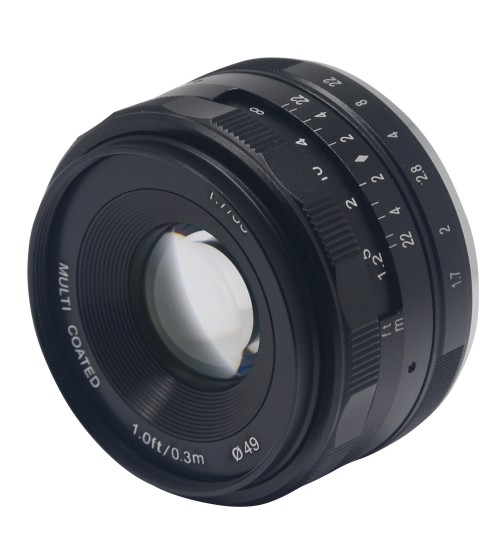 Lihat gambar lebih detail
Description
Meike MK-35mm F/1.7 is a fixed manual lens for Fujifilm mirrorless cameras. The frosted metal construction makes it resistant to dust,
and steam while the 6 multi-coated elements in 5 groups help prevent flare. It features reminiscent industrial design with comfortable
using experience with a metal construction, compositing of a highly polished metal mount body and a knurled metal focusing ring.
There is a depth of field scale provided and distances are marked in both feet and meters. The front element does not rotate, so use
of polarizing and graduated filters is much easier. A push on plastic lens cap is provided and this shows no signs of being likely to fall
off in use.The Meike 35mm f/1.7 lens is a well made and attractive optic lens with nice color, lovely bokeh and controlled chromatic
aberration. It is highly recommend for manual purists, who will be rewarded with excellent central sharpness in your portraiture and
other kinds of photography.
Model: MK-35-F1.7
Lens type: Fujifilm APS-C Mirrorless Camera Lens
Construction: 6 elements in 5 Groups, 8 diaphragm blades
Filter diameter: 49mm
Magnification: 0.113X
Focal distance: 35mm
Aperture scale: F/1.7-22
Lens diameter: 60.5mm
Length: 41mm
Weight: 176g
Lens angle: Diagonal 40°20' horizontal 36°30' vertical 23°
Coating technology: Nano-technology multi-layer coating
Technical
Warranty
Non Warranty