Panasonic Lumix G Fisheye 8mm f/3.5 (H-F008E)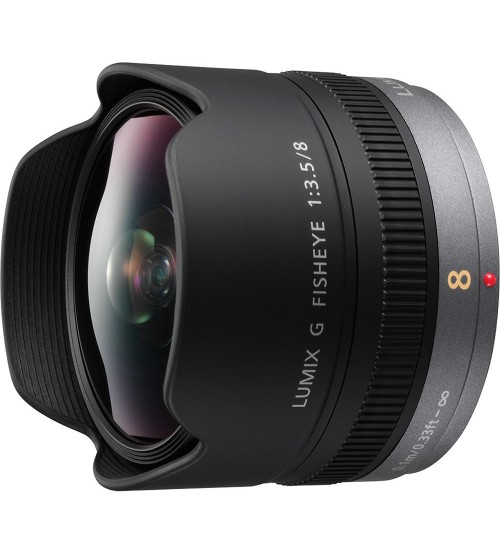 Lihat gambar lebih detail
The World's Smallest and Lightest* Digital Interchangeable Fisheye Lens LUMIX G FISHEYE 8mm / F3.5 (H-F008)
Panasonic unveiled a new interchangeable lens LUMIX G FISHEYE 8mm / F3.5 (35mm camera equivalent: 16mm) for the New-Generation System Cameras LUMIX G Micro System.
The new LUMIX G FISHEYE 8mm / F3.5 offers a diagonal angle of view of 180-degree, bringing an distinctive perspective and unique deformation effect. It gives not only photos but also movies an extraordinary view to add an impressive scene to the story even for TV contents, films and web movies.
Comprising ten lenses in nine groups, the new lens system features an outstanding compactness, taking advantage of the Micro Four Thirds system standard to achieve dramatic downsizing to the world's smallest and lightest size*. The adoption of an ED lens achieves a stable descriptive performance from close-up to infinity minimizing chromatic aberration and distortion.
The closest focusing distance is as short as 0.1m, however, the LUMIX G FISHEYE 8mm / F3.5 incorporates inner focus system which enables a long working distance and users do not have to come closer to the subject even for the close-up shots.
Technical
Warranty
Panasonic Gobel Indonesia