Panasonic HC-VX980GC-K 4K Full HD Camcorder (Promo Cashback Rp 2.000.000 Periode s/d 29 Februari 2020)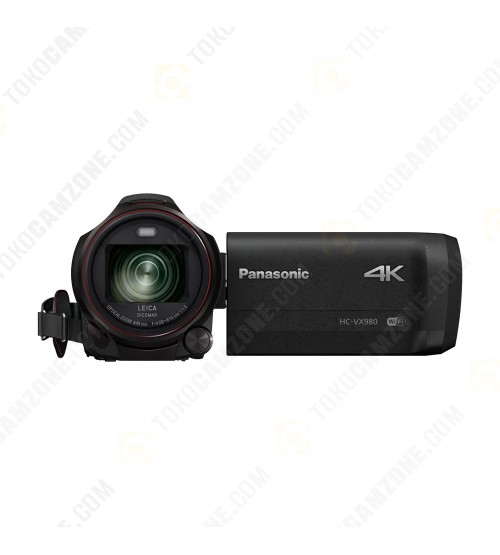 Lihat gambar lebih detail
Video quality
Fortunately, shooting more traditional video from the HC-VX980's 1/2.3in BSI MOS, 18.9 megapixel sensor still provides wonderful results. This is the same sensor as the HC-WX970 and, as before, allows recording at up to 4K resolutions.
While 4K-capable TVs have become more prevalent since last year, it's arguable that they're still not particularly widespread. As such, it's likely that you'll mainly be using the HC-VX980's 4K-capable sensor to crop and process the high resolution footage. Another returning feature is the 4K photo mode, which allows you to shoot 4K video and then grab 8-megapixel stills from the resulting footage.
These are of a high enough resolution for prints or publishing on social media and the resulting images are excellent as long as you've got adequate lighting. There's plenty of detail and sharpness across the frame and colours are nice and vibrant, and its auto-focus performance was great, with the camcorder smoothly changing the focus points between subjects.
The quality of our video footage was also good in bright light, thanks to its f/1.2 - f/3.6 aperture lens. It can also record 1080p at up to 50Mbit/s and 4K at 72Mbit/s, but I found that the HC-VX980 struggled with noise in lower lighting conditions.
Auto-focus is smooth and swift
The HC-VX980's main new feature is its cropping functions. This benefits hugely from the additional resolution offered by 4K, and once processed, the resulting footage can be turned into 1080p video at 25fps. Its 4K cropping feature also allows post panning, post tracking, post zooming and post stabilising control. With post panning, you can use the camcorder to set a final panning destination, and then it will automatically zoom in and crop to 1080p as it pans across. Naturally, you'll achieve the best results with the camcorder placed on a tripod.
Post tracking, on the other hand, lets you select a moving target, such as a person, and then the HC-VX980 will crop in and track your subject. However, I found the resulting footage could be rather robotic in motion, and it didn't feel as natural compared to tracking a subject manually by physicall moving the camcorder. This is because the target stays largely in the same part of the frame as it tracks. The tracking also didn't always work particularly well, and it often failed to match our subject's movement altogether.
As its name suggests, post zooming lets you get a closer view, again at the sacrifice of resolution as it crops in, but at least you can set the zoom speed to give you some degree of cinematic control. Finally, the post stabiliser option can help steady your footage by strategically cropping in to help reduce camera shake. Of the four, this was particularly useful for trickier shooting situations, especially when camera movement was magnified by physically zooming all the way in. Saying that, the five-axis hybrid optical image stabilisation performed well, too.
Like the HC-WX980, HDR (High Dynamic Range) makes a return on the HC-VX980, helping to provide a more balanced exposure during high contrast scenes. Disappointingly, this is still limited to shooting in 1080p and not full 4K resolutions, but at least it doesn't look overly artificial. You can also activate slow motion video using its dedicated shooting mode, allowing you to slow down the footage up to three times per recording for some dramatic effect.
Slow-motion footage
Changing settings can be done from the LCD fold-out display. It hasn't changed much from last year's model, and the display's resolution still looks a little grainy. It's fine for framing shots and changing settings, but the on-screen menu can be a bit fiddly and unintuitive at times, especially when using some of the new 4K cropping modes. As a result, you'll probably have to spend a little bit of time getting used to how everything works, but it's easy enough to pick up after you've used each setting a couple of times.
Battery Life
Thankfully, battery life is top-notch. Shooting 1080p at 28Mbit/s, the camcorder managed 1 hour 55 minutes, dropping to 1 hour 38 minutes at 50Mbit/s. The HC-VX980 charges through a USB to DC cable with a wall adaptor, so you can feasibly use your tablet charger adaptor to save carrying excess equipment on your next trip.
Conclusion
In the end, the HC-VX980 is a worthy update to last year's model, cutting both an unecessary feature and the price. It may not be a massive departure from the HC-WX970 and some of the new 4K cropping functions are a bit hit and miss, but the addition of more fully-fledged slow-motion effects makes the HC-VX980 an excellent 4K camcorder to suit every occasion.
Technical
Pixel
18.9 MP
Optical Zoom
25x
Video Resolution
6784x3816
Display Size
3"
Memory Card Type
SD
Battery
Lithium-ion
Warranty
PT Panasonic Gobel Indonesia