Panasonic Lumix DMC-TZ110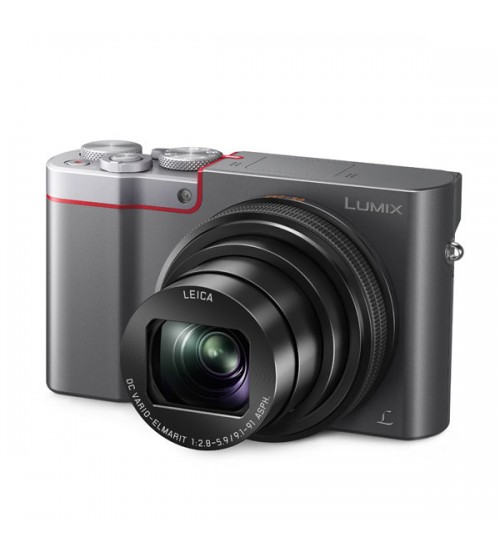 Lihat gambar lebih detail
Large 1-inch Image Sensor
The Panasonic TZ-110 pushes the limits of imaging performance and versatility from a compact camera. Its premium 1" sensor and 10x optical zoom lens delivers exceptional detail and sharpness in a pocket-sized point-and-shoot style camera body.
20.1 Megapixel Quality
Its high resolution 20.1 megapixel MOS sensor delivers impressive photo and video results. Vibrant, detail-rich images and stunning 4K video recording ensure any scene can be captured faithfully. Colours are rich, with true-to-life accuracy enabling you to shoot life's most colourful moments with confidence.
Maximum ISO25600
The Venus Engine image processor offers impressive low-noise results when shooting in difficult lighting conditions. Its ISO25600 maximum equips you with better creative flexibility, resulting in sharper, more natural pictures when shooting indoors or at night. A built-in pop-up flash is also available to provide additional illumination in extremely dark scenarios.
Leica 10x Telephoto Zoom Lens
A first-class 10x optical zoom lens produced by Leica ensures maximum image quality and detail. Its versatile 25-250mm focal range equips you with the ability to photography a variety of subjects including portraits, landscapes and street photography. Perfect for your next travel adventure, the TZ110 ensures you're always equipped to handle the photographic opportunities might be just around the corner.
Advanced 5-axis Image Stabilisation
5-axis Image Stabilisation is built-into the TZ110 to effectively minimise blurry images caused by camera shake. Complementing the cameras high ISO capabilities, the stabiliser improves clarity when shooting in low-light conditions, reducing the effect of camera shake and improving overall image detail.
Stabilised Video Recording
The stabiliser also works when recording Full HD video, delivering smooth footage even when walking or panning.
4K Ultra-High Definition Video Recording
With one-touch 4K Ultra-High Definition recording at your disposal, capturing those unexpected moments is easy. The dedicated record button next to the shutter ensures fleeting moments aren't missed. No more fumbling with dials and menus, simply hit the record button and start shooting.
4K Video Editing Versatility
Offering a resolution four times greater than Full HD, the image quality produced by such a compact camera has to be seen to be believed. For more advanced users the 4K video capabilities offer improved post production versatility, allowing you to pan or crop within the 4K frame for ultra-smooth panning and stabilisation effects.
4K Photo Mode
Its 4K capabilities also helps capture decisive moments in fast moving action. The 4K Photo mode equips you with the ability to shoot 4K video at 30fps and scroll through each frame during playback to select the exact moment you want to freeze. You can then export that frame to a 8 megapixel JPEG file, ready to be printed or uploaded to your favourite social networking platforms.
Post-Focus Mode
A revolutionary Post Focus option is also available, enabling you to capture a scene and decide the focal point later. The Post Focus function combines the camera's existing Depth from Defocus autofocusing and movie capabilities to record roughly one second of MP4 video at 30 frames per second. During this recording, the camera's autofocusing system scans the lens around the subject, moving from the foreground to the background to cover the entire scene. In playback mode the focal point can then be selected by simply touching the point that you want to appear sharp. The camera automatically selects the optimum frame and gives you the option to export it, as a 8 megapixel JPEG image.
Integrated Wi- Fi Connectivity
With integrated WiFi and the ability to connect to the Panasonic Image App on a smartphone or tablet users gain the ability to remotely operate the camera, geotag location information to photos via GPS and to instantly share images and moments on social media platforms.
1.4 Million-Dot OLED Electronic Viewfinder
A high resolution (1,440k-dot) OLED Live View Finder helps users compose and frame their images even in strong sunlight, whilst offering improved stability for maximum image sharpness. The large 0.7x magnification of the viewfinder lets users see fine details and assess focus.
Large 3-inch LCD Touchscreen
Alternatively, a 3.0-inch 1,040k-dot LCD with touch screen functionality ensures image capture, menu navigation and image playback with the Panasonic TZ 110 is a natural, intuitive experience that is sure to deliver wonderful memories for years to come.
Technical
Pixel
20.1 Megapixels
Optical Zoom
10 X
Video Resolution
1920 x 1080 pixels
Display Size
3"TFT Screen LCD Display
Memory Card Type
SD / SDHC / SDXC
Battery
Li-ion Battery Pack (7.2V, 1025mAh, 7.4 Wh)
Warranty
Panasonic Gobel 1 Tahun