Ricoh THETA S Spherical Digital Camera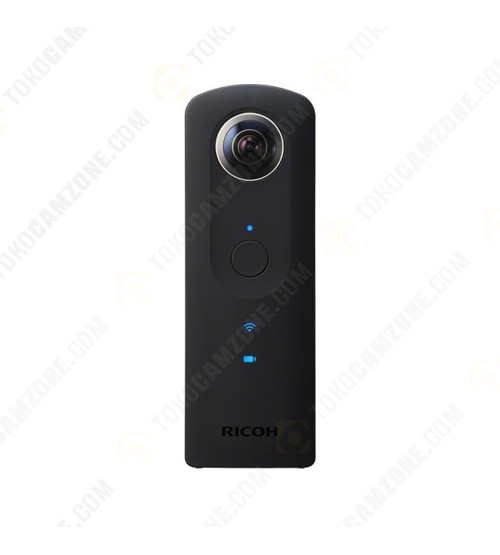 Lihat gambar lebih detail
PRODUCT HIGHLIGHTS
· Record 360° Spherical Photos/Videos
· 2 x 12MP 1/2.3" Sensors, 14.4MP Output
· Twin Lens System, f/2 Maximum Aperture
· Full HD 1080p Video Recording at 30 fps
· Live Streaming via USB or HDMI
· Auto, Shutter Speed & ISO Priority Modes
· ISO 1600 & Manual Exposure up to 1 Min.
· Built-In Wi-Fi for Live View and Control
· 8GB Internal Memory
· Google Maps/Street View Compatible
A sleek and unique device allowing you to capture 360° stillsand full HD movies with a single click, theTheta S from Ricoh featuresupdated imaging components and performance attributes for producing broad-fieldimagery in a variety of ways. Dual 12MP 1/2.3" image sensors pair withbright f/2 twin lenses in order to capture high-resolution spherical imageswith each exposure, and a sensitivity range from ISO 100-1600 is available forworking in a various lighting conditions. Automated exposure settings are usedfor both stills and video recording, or manual settings can be employed whenshooting stills for extended exposure times up to one minute long.

In addition to the imaging capabilities, the Theta S has also been revampedwith enhanced sharing capabilities, including the ability to wirelessly shareboth movies and photos to a mobile device for posting online. Built-in Wi-Fialso enables remote live view and camera settings adjustment from yoursmartphone or tablet. Finished imagery can up uploaded to the dedicated Theta360 website for sharing with social media sites as well as published onGoogle's Street View app to allow others to view your spherical imagery.
· Unique twin lens design incorporates lenses on the front andback of the camera to enable full 360° spherical imagery to be recorded witheach exposure. Each lens has a maximum aperture of f/2 to benefit working inlow-light conditions, and each lens has a fixed focus range of 3.9" toinfinity to render nearly all subjects in focus.
· Dual 12MP 1/2.3" image sensors provide an interpolated14.4MP output in order to produce stills with a 5376 x 2699 equirectangularresolution.
· Full HD movie recording is supported at 1080p30 (16 Mbps), aswell as HD 720p15 (6 Mbps), and live streaming is possible via the HDMI type-Dor micro USB connections at 1080p30, 720p30, 720p15, or 480p30 frame rates.When saving video to the internal 8GB memory, up to 25 minute clips or 4GB ofvideo can be recorded at a time.
· Auto, Shutter Priority, and ISO Priority exposure modes areavailable for stills shooting, and auto exposure mode is available for videorecording or live streaming.
· A sensitivity range of ISO 100-1600 is available for allrecording modes to benefit working in a variety of lighting conditions.
· When shooting stills, shutters speeds ranging from 1/6400 sec.to 1 minute are possible. Speeds up to 1/8000 sec. are possible in video modes.
· Built-in Wi-Fi allows you to connect to a mobile device ortablet in order to gain a live view image, adjust camera settings, andwirelessly transfer stills and video for instant sharing online.
· Spherical imagery can be uploaded to the Theta 360 website andshared to Facebook, Twitter, and Tumblr or posted to Google Maps, Google+, andYouTube. The Theta S employs the Google-supported Open Spherical Camera API forfull compatibility with Google services, including the ability to publish yourphoto spheres on the Google Street View app for others to explore.
· Integrated lithium-ion battery offers approximately 260 shotsper charge, and it can be charged via the included USB cable.
· Internal 8GB memory can store approximately 1600 full-resolutionstills or up to approximately 65 minutes of 1080p video.
Technical
Pixel
12 MP
Sensor Type
1/2.3"
Video Resolution
1920 x 1080p
Memory Card Type
8GB Built-in Memory
Battery
Rechargeable Lithium-Ion Battery Pack
Warranty
6 Months Service