Roland VC-30HD Video Converter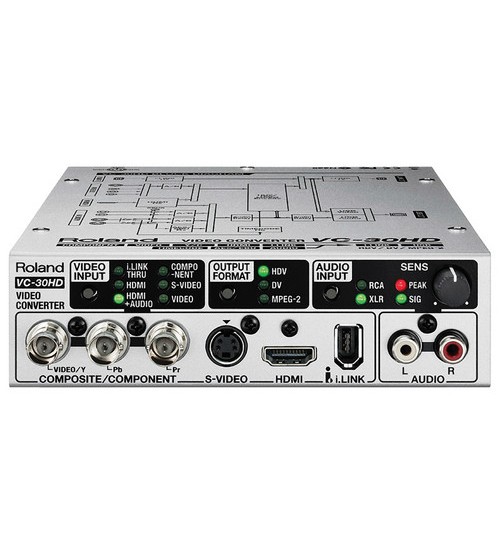 Lihat gambar lebih detail
The Roland VC-30HD Video Converter is a Swiss Army knife–style converter that accepts just about any analog video or audio input as well as digital HDMI and FireWire sources. In real time, it converts video and audio to MPEG-2, DV, or HDV video streams that can be output simultaneously via the VC-30HD's USB or dual FireWire ports.
This presents a plethora of options for convenient archiving, recording, and live streaming – with multiple tasks being accomplished at once. Featuring HDMI, FireWire, S-Video, component, and composite inputs, the VC-30HD accepts NTSC & PAL video formats as well as HDTV standards up to 1080i60. For analog audio input, you also enjoy a lot of options: HDMI embedded, analog via RCAs, and either analog or AES via XLRs. There's also an XLR for timecode input.
For output, the VC-30HD converter embeds the analog & digital audio and preserves your resolution and frame rate as it converts video to DV, HDV, MPEG-2 at selectable bit rates from 2 to 50 Mb/s. With simultaneous outputs via dual FireWire ports and USB, the converter serves up signals ready for both real-time recording and streaming to a Windows-based service. Record to Blu-ray recorder, a VTR, a PC, a camera, or a nonlinear editing system, all while your stream goes out live to the internet.

HD Live Streaming
The VC-30HD converts and combines video and audio to MPEG-2 for live streaming. The device simultaneously outputs to two IEEE 1394 ports and one USB port. That means you can stream to the internet using a Windows-based streaming service and archive or record to a video device for backup – all at the same time
Multiple Uses
Record video from a digital still or video camera with an HDMI output to a PC, or directly to another video device (such as a Blu-ray recorder) that has a FireWire input. You can also record directly to a Blu-ray recorder from a nonlinear editor by using the VC-30HD. You can archive this way even while you're webcasting via a streaming service. Or simply capture to an NLE from a DV/HDV camera, HD camcorder/camera with an HDMI output – or from any switcher, DVD player, or other video device with analog outputs
Control Parameters
Dedicated software for the VC-30HD enables control of various parameters such as bit rate of MPEG-2 TS (at HD resolutions, choose from 50, 35, or 8 Mb/s; at SD, 12, 9, or 2 Mb/s) and audio delay. USB output supports bit rates up to 25 Mb/s. Audio and timecode can be embedded in the IEEE 1394 video output
Built-In Audio Delay Setting
The VC-30HD has appropriate compensation built-in, so audio and video are in sync from the USB or FireWire ports with the delay setting at 0. However, depending on the total signal flow from all connected devices and/or the encoding/streaming software being used, audio may not always be in sync. The audio delay setting in the VC-30HD is there to compensate for whatever may be happening outside the unit. Set the delay as required by watching the final encoded stream. Use a clapper or a percussive device to clearly match the sound to the video image. The VC-30HD allows up to 30 frames of delay compensation (1 second) in increments of 0.1 frames (3.3 milliseconds) – enabling the perfect lip sync.