Roland VR-5 AV Mixer & Recorder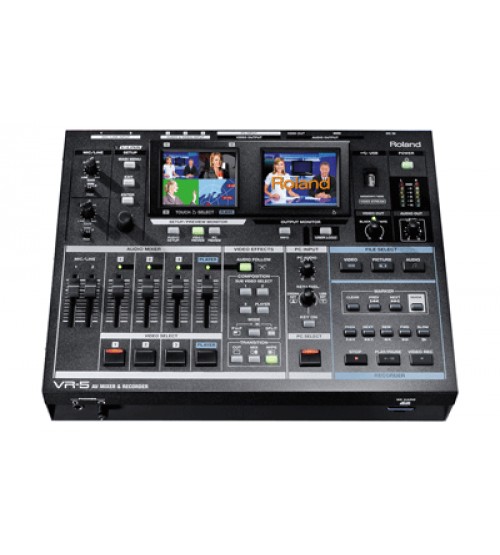 Lihat gambar lebih detail
The
Edirol / Roland VR-5 AV Mixer & Recorder
is a soup-to-nuts device that includes a video switcher, audio mixer, recorder, and preview monitors, and provides video playback and output for web streaming. Featuring minimal hardware, an easy connection, and a quick set up, it is ideal for school meetings, churches, council meetings, panels and corporate events.
Equipped with a 5-Channel Video Switcher, the VR-5 AV Mixer & Recorder can support up to 3 video sources, PC input video playback, 2 mono, and 5 stereo mixable audio channels. The built-in scan converter allows you to adjust the vertical and horizontal scan frequency of video signal. You can select the video sources and PinP position changes with the help of dual touch-screen LCD monitors (program and preview monitors). Alternatively, the dedicated video buttons can also be used for selecting a video source. It also has options for selecting transition effects such as Picture-in-Picture and Split. The sound from the sources can be monitored using headphones.
Provided with 2 mono and 5 stereo audio inputs, the VR-5 AV Mixer & Recorder offers full digital audio processing, and produces high-quality sound with effects such as "Noise Gate" for reducing background noise, and a "Mastering Tool" to ensure consistent output volume. The "Audio Follow" function enables the audio to fade from one source to another as the video source changes.
With a built-in recorder, you can record the final output of the VR-5 to an SD memory card. The 4 GB SD card allows you to record videos up to 4 hours. Equipped with MPEG-4 capture format, the VR-5 AV Mixer & Recorder allows easy sharing of recorded videos and offers playback of videos, still images, and audio files.
You can connect the mixer to a PC via a USB port and enable live streaming of videos. With Video Out and Audio Out knobs, you can enable independent video and audio fade-in/out Levels. The User Logo button adds a stored image such as a company logo, show name, or conference title to the displayed video. With a single knob, you can add advanced video compositions such as placing a person or a text over a background video source. The PC to the RGB with a single knob connector allows you to use the VR-5 AV Mixer & Recorder for various applications such as presentations, slide shows, and movie playback.
Specifications
Video Format
Video] NTSC or PAL (ITU601)
[PC-RGB] 640 x 480/120 Hz, 800 x 600/120 Hz, 832 x 624/75 Hz
1024 x 768/80 Hz, 1152 x 864/80 Hz, 1152 x 870/75 Hz
1280 x 1024/75 Hz, 1600 x 1200/60 Hz (RGB VH: positive/negative logic)VESA DMT Version 1.0 Revision 10 conform
The refresh rate is the maximum value of each resolution.
Sampling Rate
[Video] 4:2:2 (Y:B-Y:R-Y), 8 bits, 13.5 MHz
Frame Synchronizer
5 systems
Input Level and Impedance
Video (composite)] 1.0 Vp-p, 75 ohms
[S-video] Luminance signal: 1.0 Vp-p, 75 ohms
Chrominance signal: 0.286 Vp-p, 75 ohms (NTSC) /0.3 Vp-p, 75 ohms (PAL)
[PC-RGB] 0.7 Vp-p, 75 ohms (H, V: 5 V TTL)
Output Level and Impedance
[Video (composite)] 1.0 Vp-p, 75 ohms
[S-video] Luminance signal: 1.0 Vp-p, 75 ohms
Chrominance signal: 0.286 Vp-p, 75 ohms (NTSC)/0.3 Vp-p<="" td="">
Connectors
Input] Video (composite): BNC type x 3, S-video: 4-pin mini DIN type x 3, PC-RGB: D-Sub 15-pin Shrink type x 1 * Inputs 1 to 3; When S-video is simultaneously input to 1 to 3, S-video takes priority [Output] Video (composite): BNC type x 2, S-video: 4-pin mini DIN type x 2 [Preview Output] Video (composite): BNC type x 1
Audio
Internal Processing
Sample Rate: 24-bit/48.0 kHz
Input Level
[AUX AUDIO INPUT] +4 dBu to -62 dBu (variable) Max: +22 dBu
[Channel 1/2/3] -10 dBu Max: +8 dBu [PC AUDIO] -15 dBu Max: +3 dBu
Input Impedance
[AUX AUDIO INPUT] XLR type: 4 k ohms, TRS phone type: 6 k ohms
[Channel 1/2/3 and PC AUDIO] 15 k ohms
Input Connectors
[AUX AUDIO INPUT] XLR-3-31 type (balanced, phantom power), 1/4 inch TRS phone type (balanced/unbalanced) * TRS type takes priority [Channel 1/2/3] RCA phono type [PC AUDIO] Stereo miniature type
Output Level
[AUDIO OUTPUT] -10 dBu Max: +8 dBu [PHONES] 50 mW + 50 mW
Output Impedance
[AUDIO OUTPUT] XLR type: 600 ohms, TRS phone type: 1 k ohms, [PHONES] 10 ohms
Output Connectors
AUDIO OUTPUT] XLR-3-32 type (balanced), RCA phono type [PHONES] Stereo 1/4 inch phone type
Recorder
Recording Format
[Format] MP4 (.mp4) Video Codec: MPEG-4 Visual Audio Codec: MP3 (MPEG-1 Audio Layer-3)
Bit Rate
2 Mbps, 4 Mbps, 6 Mbps
Clip Splitting
SD Memory Card (1 to 2 GByte)
SDHC Memory Card (Max 32 GByte), Class 4 or greater
Utilities
FAT32 (Max file size 4 GByte)
Maximum Recording Time
Recorded file is up to 4 GByte
Bit Rate at 2 Mbps: approximately 4 hours/4 GByte
Bit Rate at 4 Mbps: approximately 2 hours/4 GByte
Bit Rate at 6 Mbps: approximately 80 minutes/4 GByte
Supported Playback Format
[Video File Format] .MP4, .AVI
Video Codec: MPEG-4 Visual
Audio Codec: MP3 (MPEG-1 Audio Layer-3)
[Audio File Format] .WAV, .MP3
[Picture File Format] .BMP, .JPG
Connectors
HDMI Connector
[Resolution] Setup to NTSC: 480p
Setup to PAL: 576p
OUTPUT or PREVIEW OUTPUT
USB A Type Connector
For USB Storage device
For USB Video Stream output (Support UVC/UAC)
USB 2.0 High-Speed
Remote Control Interfaces
MIDI IN: 5-pin DIN type x 1 jack
MIDI OUT/THRU: 5-pin DIN type x 1 jack
Other Specs
Transition Effects
Switcher: Cut, Mix, Hard edge wipe, Soft edge wipe
DSK: Cut, Mix
Video Effects
Luminance key, Chroma key, Picture-in-picture, Split
Power Supply
DC 12 V (AC Adaptor: PSB-7U)
Current Draw
3 A (AC Adaptor: PSB-7U)
Dimensions
376 (W) x 314 (D) x 133 (H) mm
14-13/16 (W) x 12-3/8 (D) x 5-1/4 (H) inches
Weight
&lt