Roland XS-84H 8x4 Multi-Format AV Matrix Switcher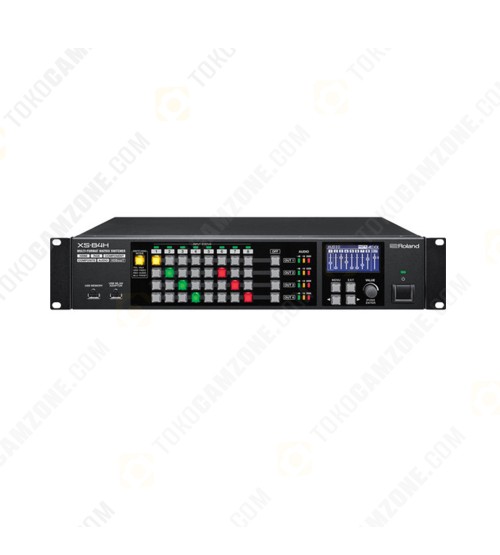 Lihat gambar lebih detail
Key Features
Switch up to 8 HDMI / Analog Sources
8x HDMI Inputs
8x RGB/Component/S-Video/Composite DB15
4 HDMI and 4 HDBaseT Outputs
The Roland XS-84H 8x4 Multi-Format AV Matrix Switcher is designed for fixed installations requiring high-quality integrated video and audio conversion and switching.
The XS-84H is adaptable, supporting eight HDMI, RGB/Component/S-video/Composite inputs and up to 4 HDMI or HDBaseT outputs with scalers to support picture-in-picture, resizing, rotating, and flipping. Audio can be embedded into outputs via 8 stereo audio inputs (2 mic) and/or HDMI audio as well as de-embedded HDMI audio on output. Additional features include iPad control, EDID emulation and HDCP management.
Main Features
Inputs: 8 HDMI and 8 RGB/Component/S-video/Composite analog video
Outputs: 4 HDMI and 4 HDBaseT (Switchable HDMI or HDBaseT per output)
Support for maximum resolution of WUXGA and 1080p, with built-in scalers
8 stereo line inputs (2 mic compatible with 48V phantom) with built-in AD/DA conversion and embedded/de-embedded HDMI audio
16 channel digital audio mixer with audio digital effects (HPF, 4 Band EQ, noise gate/expander,and compressor) and outputs delay
Support for RS-232C, network, and iPad control
Integrated Video and Audio Environment
The XS series offers an integrated environment for routing and switching HDMI and analog sources and digital displays. The series enables high-speed switching for HDMI, RGB, component, S-video, and composite video.

The series features EDID emulation for HDMI and RGB signals, managing EDID information between the display and HDMI source to ensure a stable system environment for HDMI. The HDCP key master feature maintains authentication information for each HDMI source enabling high speed switching under 5 frames.

The powerful DSP enables the switching and mixing of audio input as well. Up to four audio mixes can be created from both analog audio inputs as well as embedded HDMI audio inputs. The resultant mix can be embedded back into the HDMI/HDBaseT outputs as well as analog audio outputs.

The XS series achieves sophisticated sound processing thanks to the built-in audio DSP technology from Roland. Along with eight HDMI audio inputs, the series can accept eight stereo analog audio inputs as well. For audio-level adjustment, in addition to using the unit's knob, detailed settings can be configured by remote control from an iPad or external controller. Monitoring volume levels is convenient with the level meter display on each output.

The XS series accommodates mic-level audio input on two channels. A built-in ducking function enables lowering the volume of other audio during microphone input.

The audio inputs are each provided with an internal high-pass filter, 4-band equalizer, noise gate/expander, and compressor. The audio outputs are each provided with a 4-band equalizer, noise gate/compressor, and delay.

Using the Roland WNA1100-RL wireless USB adapter enables direct control from an Apple iPad installed with Roland XS Remote. Along with operating the unit, Roland XS Remote can be used to change settings instantly with its memory-recall function.
Video Processing
The XS series can scale individual inputs of HDMI, RGB, component, S-video, or composite video and output the results in a format suited to the system. Scaling can be adjusted in single-pixel increments enabling display of video that fits any screen exactly. (When compositing functions, all outputs are fixed to the same format.)

Resolutions up to WUXGA/1080p are supported for both input and output. Deinterlacing interlaced video for output as a progressive signal is also possible.

Video signals can be flipped vertically and horizontally, or rotated 90 degrees. Using this in combination with scaling makes split-picture output possible.

The Preview Out function enables the user to check a video source before sending it to an output. The Presentation mode enables the operator to view guides lines indicating the main screen output size.
Specifications :
Video
Processing

4:4:4 (Y/Pb/Pr), 10-bit

Input Connectors
8 x HDMI (Type A) HDCP Supported
8 x RGB/Component/S-video/Composite (HD DB-15 type)
Output Connectors
4 x HDMI (Type A)
4 x HDBase T (RJ-45)
Input/Output Level and Impedance

RGB/Component


Level : 1.0Vp-p (luminance), 0.286Vp-p (chroma, NTSC), 0.3Vp-p (chroma, PAL)
Impedance : 75 ohms



Composite/S-video


Level : 1.0Vp-p (luminance), 0.286Vp-p (chroma, NTSC), 0.3Vp-p (chroma, PAL)
Impedance : 75 ohms
Supported Input Formats
HDMI : up to 1080p/59.94, up to 1920x1200/60
Component : up to 1080p/59.94
RGB : up to 1920x1200/60 Reduced Blanking (Maximum 1920 x 1200 pixels, 24 bit per pixel, uncompressed)
Composite : 480i/59.94, 576i/50
S-video 480i/59.94, 576i/50
Still Image: Windows® Bitmap File (.bmp)
Supported Output Formats
HDMI : up to 1080p/59.94, up to 1920x1200/60
HDBaseT : up to 1080p/59.94, up to 1920x1200/60
Effects
Transition : Cut
Composition : PinP
Others : Vertically flip, Horizontally flip, Rotated 90 degrees
Audio
Audio Processing

Sampling Rate : 24-bit/48 kHz

Input Connectors
Digital : 8 x HDMI (Type A)
Analog : 8 x 5-pin terminal block connector
Output Connectors
Digital : 2 x HDMI Type A (19 pin)
Analog : 2 x 5-pin terminal block connector
Input Level and Impedance
Ch 1 to 2 : -60 to +4dBu (Maximum: +22 dBu), 10k ohms (Gain 0 to 23 dBu), 5k ohms (Gain 24 to 64 dBu)
Ch 3 to 8 : +4dBu (Maximum: +22 dBu), 8.5k ohms
Output Level and Impedance

Ch 1 to 4 : +4dBu (Maximum: +22 dBu), 600 ohms

Audio Formats

HDMI : Linear PCM, 24bit, 48kHz, 8ch

Effects
Input : High-pass filter, 4-band equalizer, Gate/Expander, Compressor
Output : 4-band equalizer, Gate/Compressor, Delay
Other
Connectors
1 x D-Sub 9 pin type for RS-232C
1 x RJ-45 for Ethernet
2 x USB A Type for USB memory, for WNA-1100RL
Display

2 x color LCD 128 x 64 dots

Power
Power Supply : AC 115 V, AC 117 V, AC 220 V, AC 230 V, AC 240 V (50/60 Hz)
Power Consumption : 50w
Dimensions

18.9 x 13.1 x 3.5" / 481 x 334 x 88 mm

Weight

11.7 lb / 5.3 kg
Packaging Info
| | |
| --- | --- |
| Package Weight | 18.85 lb |
| Box Dimensions (LxWxH) | 22.677 x 18.661 x 8.583" |
Technical
Warranty
1 Year Service and Spareparts