Rollei Monkey Pod Flexible Mini Tripod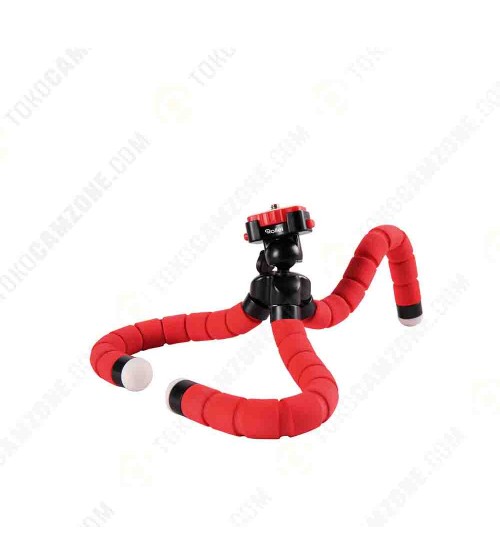 Lihat gambar lebih detail
Rollei Monkey Pod
With non-slip rubber feets
Tripod legs with roughened, comfortable foam surface, to increase the holding or gripping strength
Simple handling thanks to the quick release plate
For DSLR, DSC, camcorder and smartphones Rotatable ball head 360
Can also be used as a holder for tablet PCs
A flexible tripod for all occasions
This delightful accessory strikes of the type of gear paparazzi and private detectives would use, because it can stabilize and secure a camera in virtually any type of environment. But you don't have to be looking for a scoop to appreciate the versatility of this tripod. If you're a birdwatcher, this handy little bendy gadget will wrap its foam covered legs snugly around a branch, bringing your DSLR camera smack dab in the middle of the action and keeping it there for as long as you wish. With waterproof accessories and extended memory, your camera could be safe and sound and recording the most exciting wild-life footage you could possibly wish for.
A landscape photographer will find this tripod an absolute must-have. Place it wherever you like, at whichever angle you wish, and simply adjust the flexible tripod legs to capture the best of the scenery, enhancing some elements and leaving out others. Sunlight, reflection and exposure are no longer an issue with the rotatable, adjustable and lightweight Monkey Pod.
To round off the list of possible uses for this tripod, Monkey Pod can be used at home to capture your treasured moments beside family and friends. Gone are those days when you'd look for ways to have everyone in a photo without having to crop out those embarrassing furniture edges. No longer will you have to crop out that awkward selfie hand, either. You won't be up a gum tree anymore because the Monkey Pod flexible tripod comes to the rescue with a ball head that can pan, lock and tilt in absolutely any angle.
Monkey Pod, the tripod with a twist
More fun than a barrel of monkeys, the Monkey Pod is the accessory that brings the best out of any professional or amateur camera. Keep your camcorder, smartphone and even tablet PC steady and safe with this ingenious little accessory that makes photography a breeze in absolutely any conditions.
Material: Aluminium
Mini tripod
| | |
| --- | --- |
| Weight (excl. ball head) | 0.16 kg |
| Max height | 27 cm |
| Min height | 10 cm |
| Load | 1 kg |
Ball head
| | |
| --- | --- |
| Name | integrierter Kugelkopf |
| Controls | pan, tilt, lock |
| Load | 1 kg |
| Dimensions of quick release plate | 2 x 3.5 cm |
| Weight of quick release plate | 0.01 kg |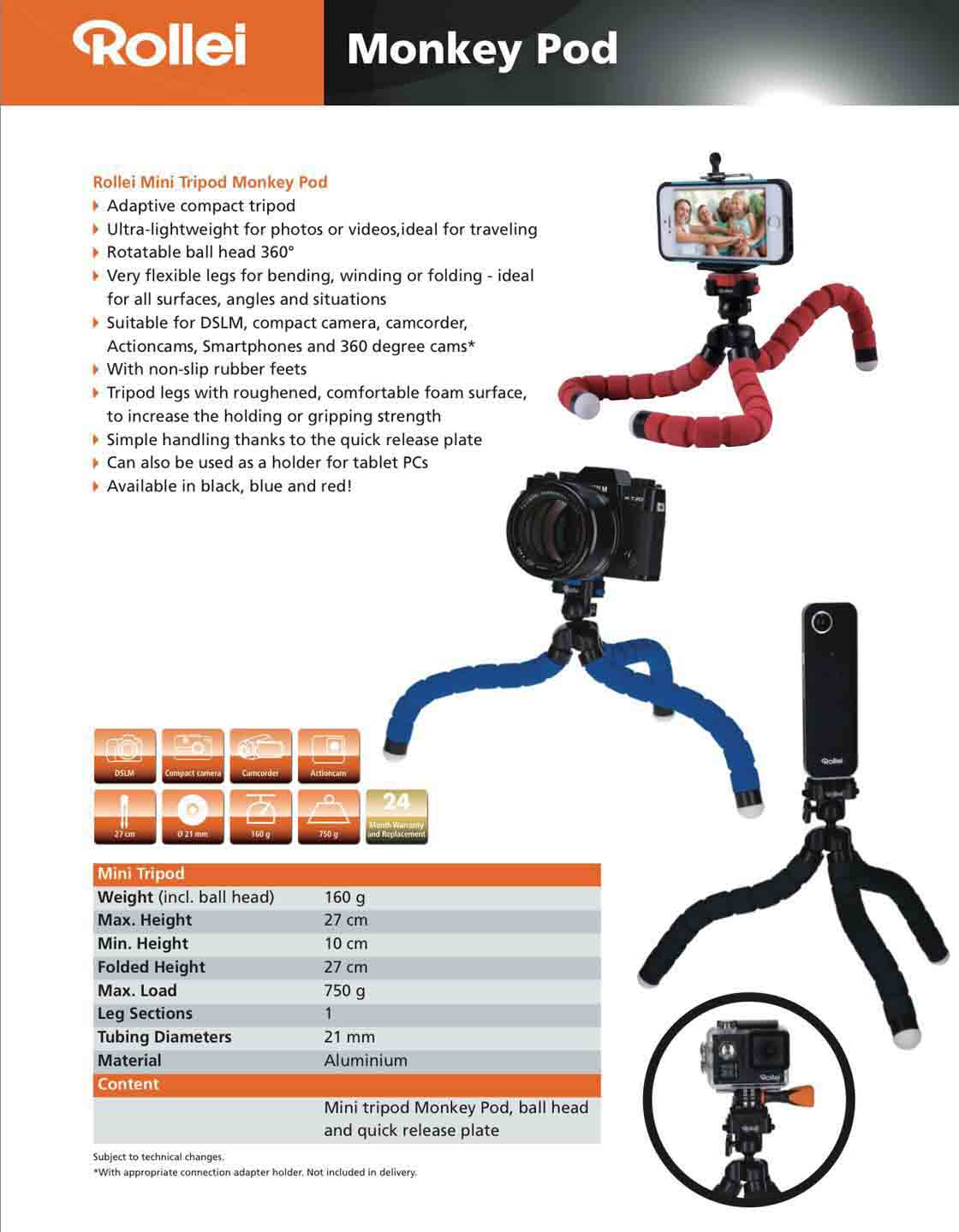 Technical
Warranty
Non Warranty