Sanyo VPC-SH1 Dual Camera Black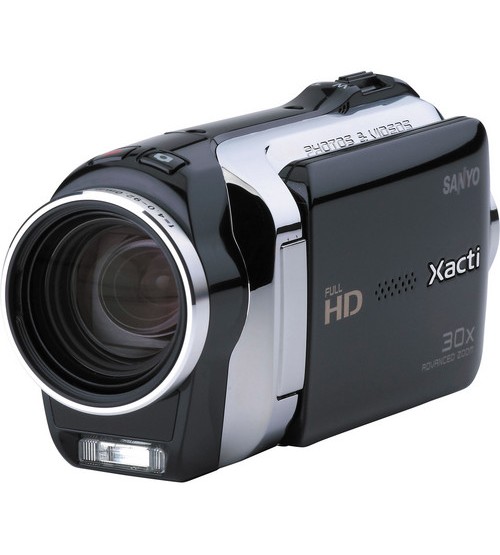 Lihat gambar lebih detail
In addition to HD 1080 video the SH1 captures amazing 10 megapixel (interpolated) photos with a 4 megapixel (effective) CMOS image sensor
30x Advanced Optical Zoom
The SH1 features a full 30x Advanced Optical Zoom for video. With Sanyo's 30x Advanced Optical Zoom Technology the field of view is dramatically increased. The photo zoom capability is 23x Optical Zoom
2.7" LCD
The display flips out from the camera and rotates up to 285 degrees on an axis that allows you to take great video or still images from otherwise-difficult-to-view positions, proving to be especially useful when shooting in confined spaces
High Speed Sequential Photo Mode
This camera features a sequential "photo" shooting mode. When the user selects this mode the camera will take multiple photos in sequential order; providing multiple photos frames. The perfect solution for action photography
Video and Photo Image Stabilizer
The SH1 features a new photo stabilizer. This technology actually takes two photos at the same time; one at a faster shutter speed and one at a slower shutter speed. The camera combines the benefits of both of the shutter speeds, resulting in an image that has less blur and less noise
Using a proprietary Sanyo algorithm, the SH1 automatically compensates for distracting up-and-down or side-to-side camera movement, keeping your video and photo subjects steady and easy to follow. It accurately distinguishes between unintentional camera shake and deliberate camera movement. This handy feature operates in both wide-angle and telephoto modes
Video and Photo Face Detection
The SH1 recognizes up to 12 faces for videos, still pictures and optimizes focus / aperture settings to ensure all subjects are in focus
Eye Fi Compatibility
The SH1 features enhanced Eye-Fi compatibility. This Dual Camera will automatically recognize the Eye-Fi wireless SD card when it is inserted. The SH1 also has "smart power" on board which allows the cameras to control the Eye-Fi function and provide power management, automatically shutting the card off when not in use
iFrame Compatibility
Sanyo's SH1 uses the iFrame video format (960 x 540/30fps) to make working with video on your Mac or PC a breeze. With iFrame, the video in your camera is the same format you'll edit, so importing video is fast and file sizes are small. You'll be able to start editing and sharing your movies right away across multiple platforms and devices. iFrame is based on standard technologies such as H.264, AAC, MP4, and QuickTime, and is designed for optimized performance in iMovie '09
Windows 7 Compatible
The SH1 is fully supported by the latest Windows OS, Windows 7, further expanding its capabilities. The video files are displayed in the same thumbnail format as still picture files. They can also be played back directly with Windows Media Player, are editable with Windows Live Movie Maker, and are Device Stage compatible. This makes the files even more convenient for use on computers
Easily Follow Moving Objects with Object Chaser Technology
The Sh1 is capable of "object chasing"; a feature which allows you to maintain proper lighting and focus on objects in motion. This is a great way to capture video of family members and pets on the move
Includes a High-Capacity Sanyo Brand Lithium-Ion Battery
The DB-L90 is a high capacity battery designed to work with the Sanyo Dual Camera Xacti SH1 camera and delivers approximately 70 minutes of video record time. High-energy density design minimizes the battery size and weight, making it perfect for use in the Sanyo Dual Camera SH1. It designed to resist memory accumulation so it provides a full charge every time
SDXC Memory Compatibility
While the SH1 works with standard SD memory, and more high capacity SDHC memory cards, it is also fully compatible with the next generation SDXC memory cards. The SH1 can record to more than 64GB of content to SDXC memory cards. This dramatically improves your ability to record and transfer hours and hours of Full HD 1080 videos to a computer. You can also play SH1 Full HD 1080 videos stored on SDXC cards on your high definition TV
Highly Advanced MPEG4 AVC/H.264 Video Compression
This feature optimizes the file size and makes sharing movies on social networking sites, or emailing them to friends and family, even easier. In fact, the file size can be up to 25 percent smaller than that of typical MPEG-4 cameras
To accomplish the complexity of encoding AVC/H.264 in real-time on the SH1, a dedicated H.264 video compression IC was incorporated into the camera that was designed specifically for portable consumer devices. This achieves high video quality while simultaneously reducing the system power consumption
Capture Still Images While You're Shooting Video
The SH1 enables simultaneous shooting of video clips and still images with a simple press of the shutter button during the shooting of a movie clip. You will never need to miss another precious photo opportunity. (Depending on the mode used to take still images, simultaneous video clip shooting may be interrupted. While shooting video clips, using the digital image stabilizer may change the angle of view for still images
Super-Fast Start-Up
Reduce your chance of missing the perfect shot. The Dual Camera SH1 is designed for super fast start-up and shooting. With its tapeless design, the SH1 eliminates the need to queue up a video tape, allowing it to begin shooting in as little as 1.7 seconds. When the SH1 is powered on, closing the LCD display puts it in standby mode. Simply open the display and the SH1 automatically powers up and can begin immediately recording in as little as 1.7 seconds.
Optics
Zoom
Advanced (Optical): 30x
Optical: 23x

Filter Size
None
Recording
Recording Media

SD/SDHC, SDXC

Still Image Support

JPEG


10 MP


JPEG


4 MP
Display
| | |
| --- | --- |
| Display Type | LCD |
| Touchscreen | No |
| Screen Size | 2.7" |
Features
Image Stabilization

Digital

Lux
10 (AUTO mode, 1/30 seconds)
4 (Lamp mode 1/15)
Built-In Mic

Yes

Built-In Speaker

Yes

Built-In Light/Flash
Light - Yes
Flash - No
Accessory Shoe
None
Tripod Mount

1/4"
Input/Output Connectors
Inputs
None
Outputs

1 x

USB 2.0


1 x

Mini-HDMI (Type C)


1 x

Composite Video
Microphone Input

No

Headphone Jack

No
General
| | |
| --- | --- |
| Battery | Rechargeable Lithium-Ion Battery Pack |
| Dimensions (W x H x D) | 1.6 x 2.3 x 4.6" / 40.6 x 58.4 x 116.8 mm |
| Weight | 8.3 oz / 235.3 g |
Technical
Warranty
Non Warranty