Kinorg B20 Hand Grip Follow Focus + KM2/KM1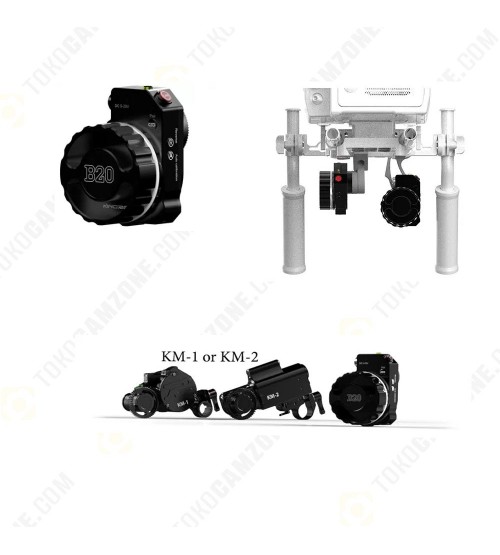 Lihat gambar lebih detail
B20 single-axis gimbal unit
his single-axis wireless follow focus for gimbals controls 1 lens motor – KM-1 or KM-2. Unlike the other hand units – D25WS (single-axis) or D25WD (dual-axis) – B20 has no internal battery and is designed to be powered from an external battery (D-tap by default)
The focus knob of B20 is big enough for reliable and precise operating. The rotation range is limited to 180 degrees relieving from the necessity to twist hands while reaching the limit positions.
The housing is made of hardened aluminium alloy and covered with hard anode layer to protect it from scratches.
UNIVERSAL MOUNT SYSTEM
To provide more flexibility and allow mounting the follow focus on various gimbals, B20 has a standard rosette mount with 1/4″ thread. Using a Super Clamp or any similar grip equipment, setup and position B20 the way fits you the most.
MAIN FUNCTIONS
There are 4 buttons on the B20 housing. These are:
Wireless RS, red button
Pair button for connecting with the motor
Auto-calibration
Reverse
Note that the rotation range of the B20 knob is limited within 180 degrees – it is done on purpose so you wouldn't have to twist your hand. In some cases it is good to have a smaller ratio of the motor rotation speed. To solve this, use the Manual Calibration function of the KM1 and KM2 motors to clip the lens range (see the User Guide to learn more).
SPECS
Weight: 120 g
Dimensions:135 x 82 x 31 mm
Operating hours per 1 charge: no internal battery
Maximum range: 30 m
Wireless frequency: 2.4 GHz
Antenna type: internal antenna
Mounting: rosette + 1/4″ thread
DC input: 9-36V, 2A
FOR FOCUS PULLERS
Motors support: 1
Calibration: auto
Replaceable marker rings: no rings
Rings backlight: no backlight
Pointer backlight: no pointer
Mount: rosette with 1/4 thread
Motor smooth mode: no
Reverse: yes
Digital markers: no
A-to-B transition: no
A-to-B speed adjustment: no
Range clipping: no
Connection indicator: Yes
Technical
Warranty
Non Warranty