iFootage Wildcat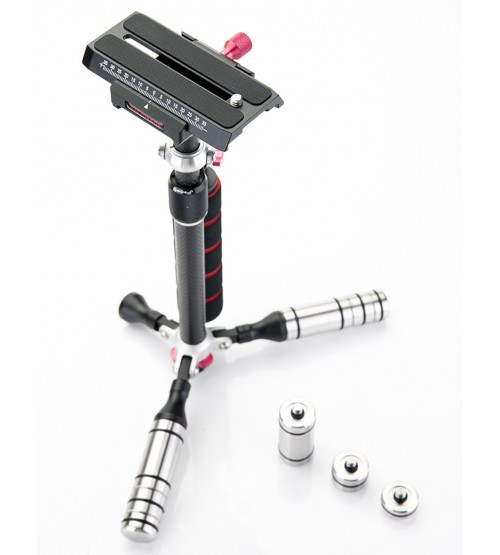 Lihat gambar lebih detail
Made with the casual and professional shooters in mind that wish to stay mobile and carry lighter gear, we wanted something in a small package that can withstand a slightly heavier load for your typical run-and-gun setup.
We ended up with something that weighs less than 500grammes (without counterweights) that can withstand a 2Kg load. It can also fit into a small fanny pack that comes with your purchase of the wildcat, tool-less setup within minutes from unboxing.
Featuring a fully adjustable 2axis quick release platform to fine tune your rig's CG point along with our calibrated mount base and plate scales, you're sure to be able to return to how you were previously setup in a quicker time repeatedly and accurately.
It does not just stop here, having used other stabilizers we found muscle fatigue also came with the angle of your grip and to aid the ergonomics, we also allowed our handle to be fully adjustable allowing you to shoot longer with less muscle fatigue.
Sometimes you shoot with a light but sometimes with a mic? Doesn't matter, with precise calibrated markings on the main stem, you're sure to be able to quickly return to your previous setup point with ease with the help of our quick release locking nut to help you adjust to your desired length to counterweight your rig without changing a single counterweight.
Specification
· Dimension : 66mm*60mm*270mm
· Material : Carbon fiber/ stainless steel
· Left and Right : 40mm
· Front and Back : 75mm+75mm
· Self-weight : 408g( Without Counterweight)
· Camera Weight : 450g-2000g
· Counterwight A : 148g
· Counterwight B : 47g
· Counterwight C : 35g
Technical
Warranty
Non Warranty