Tamron AF 18-270mm F/3.5-6.3 Di II VC PZD For Nikon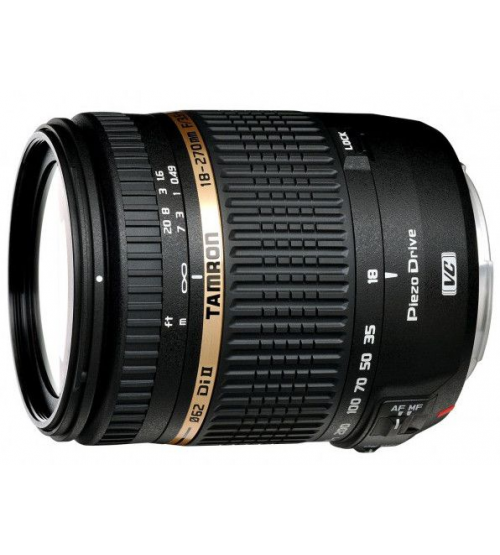 Lihat gambar lebih detail
Product Features
The

18-270mm Di II VC PZD

boasts the world's highest zoom range at 15x magnification for a lens with its compact size and light weight*1, with the added value of Tamron's proprietary VC (Vibration Compensation) image stabilization. At 450g, measuring 88mm in length (from mount face to the tip of the lens), and 74.4mm in diameter with a filter diameter of 62mm, it's a compact and easy-to-carry lens.
Silent, high-speed autofocus in a compact lens due to the incorporation of Tamron's new PZD (Piezo Drive) *2 autofocus technology.
This lens has a minimum focusing distance of 0.49m throughout the zoom range and a maximum magnification ratio of 1:3.8.
Di II (Digitally integrated design): Di II lenses are for exclusive use with digital SLR cameras (with APS-C size sensors), with a suitably optimized optical design. These lenses cannot be used with digital SLR cameras with an image sensor larger than APS-C size, or 35mm film SLR cameras.
(*1) For SLR camera high-zoom-ratio lenses with 15x magnification capability. Current as of December 2010. (Source: Tamron).
(*2) PZD (Piezo Drive) is a standing wave ultrasonic motor system developed by Tamron. The motor is faster and quieter than DC motors when the AF drive is operated, and compared with ring type ultrasonic motors, it has an actuator that facilitates lens design and reduced size.
(*3) The Sony mount is not equipped with the VC image stabilization mechanism, as the body of Sony's digital SLR cameras has a built-in image stabilization function. Consequently, the lens with a Sony mount is referred to as the

18-270mm F/3.5-6.3 Di II PZD

and does not include the VC description.
Technical
Warranty
1 Year Halodata Indonesia (+2 Years Registrasi Online)