Toshiba FlashAir W-03 Wireless SD Flash Memory Card 16 GB Wi-Fi Full HD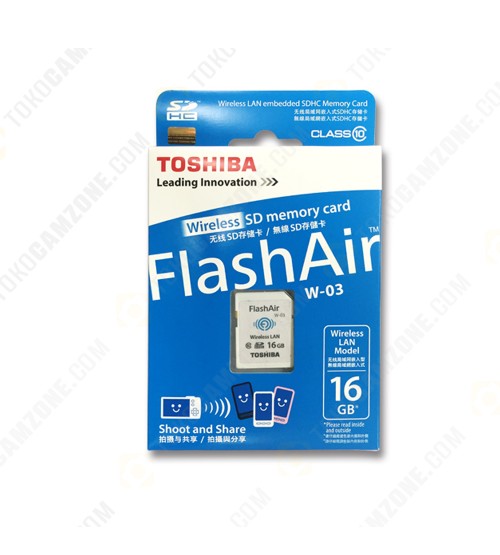 Lihat gambar lebih detail
Toshiba Electronics Europe has expanded its range of next-generation FlashAirTM wireless LAN SD cards, with the launch of a 32GB SD card. The card also features a new "internet pass-through" mode that further simplifies photo sharing. Once a mobile device is connected to the FlashAir card, the internet pass-through functionality enables the device to access the internet via a wireless access point. This removes the need for users to swap between a WiFi connection and the FlashAir card when uploading images to social media sites.

Features
Wireless data transfer function
Wireless data transfer of the data stored on the FlashAir™ SD Card. Any kind of data stored on FlashAir™ can be read and transferred by using standard WLAN communication. For example photos taken with digital cameras can be transferred by wireless communication to a PC, smartphone or Tablet PC.
Easy Wireless setting
It is easily possible to set up the connection from PC and smartphone.
Low power consumption
Wireless function is switched ON only when necessary to prevent wasteful power consumption of the battery.
Multiple Connections
Data sharing by multiple connections simultaneously. The Access Point created by FlashAir™ can be accessed by several remote hosts at the same time.
Technical Specifications of Toshiba Flash Air Wireless SD Card Class 10 16GB - SD-R016GR7AL03A
Capacity
16GB
Transfer Rate
Speed Class 10
Software Support
Windows XP/ Vista/7, MAC-PC, Android, iOS
Dimension
32.0(L) x 24.0(W) x 2.1(H) mm
Others
Wireless LAN Standard : IEEE802.11 b/g/n
Wireless LAN Security : WEP, TKIP, AES (WPA, WPA2) WPA2 Default