Wondlan WM-700B Professional 7" HD LCD Monitor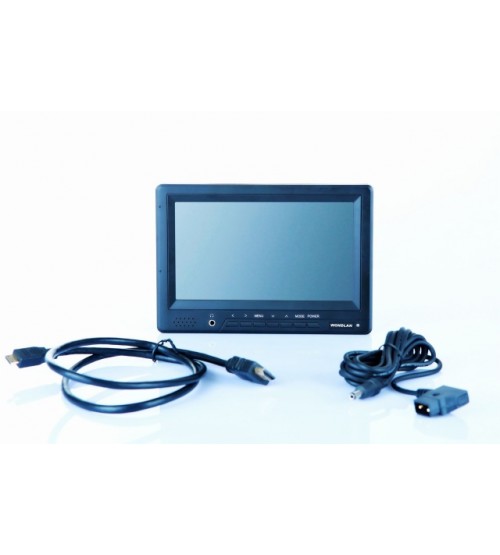 Lihat gambar lebih detail
Using high quality TFT screen, Wondlan WM-700B HD Monitor features low consumption, stable performance and so on. It also has a fairly competitive price among products of the same category, and is an ideal option for creating a low-cost studio.
WM-700B Monitor has a screen with 800*480 resolution, as well as HDMI input and output interfaces; it can be used by HD video DSLRs for view finding, or used as a director monitor. WM-700B also has interfaces for component YPbPr and composite video AV1/AV2, which can meet demands of most users. The back of the monitor has a universal battery slot for Sony F970/F550 series, which can be used to mount batteries.
Features:
· Apart from a built-in speaker, the front panel also has an earphone jack;
· Composite video input (3 in the left)
· Component input (3 in the right)
· HDMI input
· HDMI output (optional)
· Battery back panel can hold Sony F970/F550 batteries (also supports F550/F750/F770/F970/F930/F960 batteries).
DV Battery Pinch Plate
Supporting following types of Sony DVs:
DSCR1 / F / S / MVCCD / E / HC15E / HC1E / AE1u / DCRTRV828 / E / CCD-TRV116 / DCR-DVD / PS105K / 300K / 10P / 1E series;
DCR-TRV series, DCR-TRV E series;
VX2100E PD P series, GV-A700, GV-D800 FD / CCD-SC / TR3 / FX1E / HVR-AIC, HDR-FX1000E, HVR-Z1C, HVR-V1C, FX7E F330.
Supporting following types of batteries:
QM-91D, F970/F960/F930/F770/F570/F750/F550
Specifications
| | |
| --- | --- |
| Display Screen | TFT-LCD |
| Resolution | 800*400 |
| Resolution up to | 1920*1080 |
| Screen Ratio | 16:9 |
| Contrast Ration | 500:1 |
| Luminance | 400 cd/M2 |
| Viewable Angle | 700 / 700 (L/R) 500 / 600 (U/D) |
| Input Signal | HDMI, Component YPbPr, Composite Video AV1/AV2 |
| Output Signal | HDMI |
| Battery | 6800 mAh/7.2V (external)(optional), can last for 8-10 Hrs. |
| Standby Current | < 50mA |
| Input Voltage | DC12V (XLR DC Connection) |
| Power Consumption | < 8w |
| Audio Ouput | < 1w |
| Speaker | X1 (front), Earphone output |
| Weight | 510 g. |
Technical
Warranty
Non Warranty