Datavideo SE-700 Switcher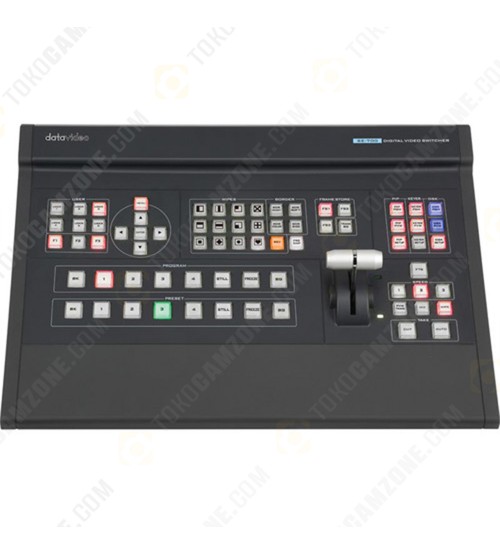 Lihat gambar lebih detail
PRODUCT HIGHLIGHTS
· 2x HDMI and 2x HD-SDI Inputs
· Supports 1080i + 720p at 50/59.94/60 fps
· 2x XLR Audio Inputs
· Supports Embedded Audio
· Multi-View Output Through HDMI
· Control via Ethernet Connection
· 32 Wipe Patterns
· Picture-in-Picture
With dual HDMI and SDI inputs, the Datavideo SE-700 Switcher is a four channel switching solution purposed for smaller installations such as concert venues, houses of worship, and schools. High-definition video formats supported by the SE-700 include 1080i and 720p at 50, 59.94, and 60 fps, complying with broadcast TV standards.
HDMI and SDI inputs allow for connections to many different digital devices. SDI inputs can be connected to broadcast cameras, while HDMI inputs can be used for media players or additional cameras. For audio, two XLR inputs are provided for connecting to an external mixer, and the SE-700 also supports embedded audio, should you choose to use it.
Output options include two assignable HD-SDI and one HDMI output. These user defined output options can provide Clean Preview (PVW), Clean Program (PGM), PGM with Downstream Key (DSK) overlay, PVW Out or multi-view as well as Freeze, Still or Inputs 1~4. By taking advantage of these outputs, you can have a program monitor, a preview monitor showing all inputs, and a third stream matching the program stream going out to a recorder or internet streaming device like the separately available NVS-25. For ease-of-use, all the features on this switching console can be configured and operated from a PC or tablet over a network connection.
Features
· Upstream Keyer - 1 upstream keyer, supporting linear/luma key
· Transitions - Wipe, mix & cut transitions
· Assignable Outputs - Each SDI output can be switched in the menu as: program (w/ DSK), clean program (w/o DSK), clean preview (w/o DSK), multi-screen, input 1-4
· PC & Tablet Control - available via Ethernet network connection
· Upstream PiP - 1 upstream PiP, supporting luma key modes as well as non-keyed mode
· Full M/E preview function
· Cross point assignment
· Tally output
· Wipe Generator - 32 wipe patterns, including circle & heart | borders & softness control
· Frame Store - Frame store with a dedicated stills buffer; up to 24 images can be stored on SD card
· Easy-to-use on-screen menu system for quick setting of parameters
· GPI output
Technical
Warranty
Non Warranty