Voigtlander For Leica M 35mm f/1.7 Ultron Aspherical Lens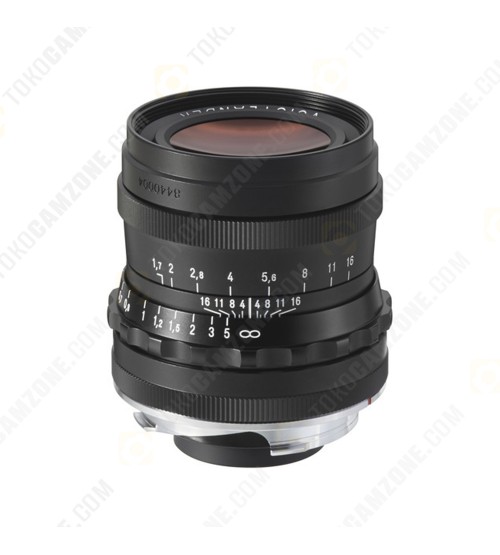 Lihat gambar lebih detail
PRODUCT HIGHLIGHTS
· Voigtlander VM Mount; for M Mount Camera
· Aperture Range: f/1.7 to f/16
· One Aspherical Element
· Manual Focus Design
· Minimum Focusing Distance: 1.6'
· Ten-Blade Diaphragm
· Filter Thread: 46mm
· Black Aluminum Finish
A favored focal length among street photographers and journalists, the black VM 35mm f/1.7 Ultron Aspherical Lens from Voigtlander is a standard wide-angle prime designed for use with both digital and film M-mount rangefinder cameras. The versatile focal length is complemented by the fast f/1.7 maximum aperture, which benefits working in a variety of lighting conditions and also offers enhanced selective focus control. The lens construction incorporates a single aspherical element to reduce chromatic aberrations and distortions for increased sharpness and clarity, and the ten-blade diaphragm helps to achieve a smooth, pleasing bokeh. This manual focus lens permits focusing as closely as 1.6' away and depth of field and distance scales aid in pre-focusing and zone focusing techniques.
· Standard wide-angle prime lens is compatible with full-frame digital and 35mm M mount cameras.
· Fast f/1.7 maximum aperture benefits working in low-light conditions and also enables greater control over focus position for selective focus applications.
· One aspherical element is incorporated at the rear of the nine elements, seven groups construction, and helps to limit chromatic aberrations and distortions.
· Manual focus design enables a minimum focusing distance of 1.6'.
· Coupled to rangefinder focusing mechanisms and supports working with 35mm bright line frames. Additionally, an optional auxiliary viewfinder is also available.
· Ten-blade diaphragm contributes to a pleasing out-of-focus quality when working with shallow depth of field techniques.
· As part of Voigtlander's Vintage Line of lenses, this lens features a black-colored aluminum finish to give it a classic appeal that is well-matched to classic rangefinder camera designs.
Technical
Warranty
1 Year Service & Spareparts