Zoom F8n 8-Input / 10-Track Multitrack Field Recorder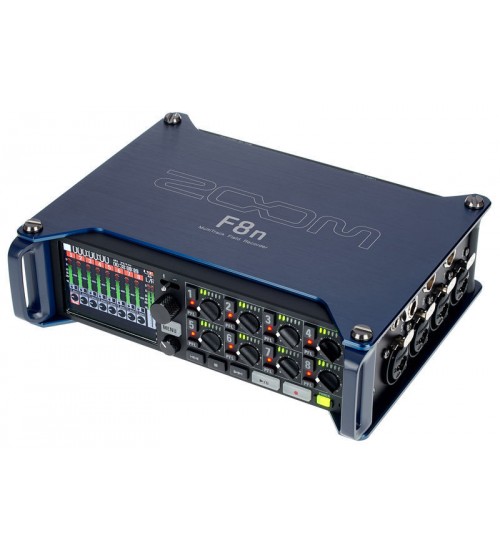 Lihat gambar lebih detail
Zoom F8n Overview
Capture every location recording cleanly and redundantly with the Zoom F8n, a sound bag–friendly, multitrack field recorder with look-ahead limiters for distortion-free 24-bit audio, and up to 8-input / 10-track recording for professional and enthusiast applications on set and in the field. Like other F-Series recorders such as the F4 and F6, you can slide it in a sound bag, sling it over your shoulder, or mount it to a camera; the F8n packs quantity and quality into a rugged frame that's more than ready for filmmaking, production/location sound mixing, sound effects recording, and electronic news gathering (ENG).
From the large, informative color display and user-friendly controls to the flexible powering options and precision time code functionality, the F8n is properly equipped to please novices and demanding veterans alike. Whether you need long-duration stereo recording for an interview, redundant capture of multi-mic setups for a video shoot, or Ambisonics sound files for virtual reality and 360-audio projects, the F8n has the modes, resolutions, and media support to handle your crucial audio tasks.
Plus, its operational versatility ensures that the F8n will always enhance your workflow, be it simple, complex, or always changing. You can feel confident using it as your main recorder, a USB audio interface for your dedicated computer rig, or a backup unit for added safety. Since it supports dual SD card recording, 4-channel safety recording, and 6-second pre-recording, you can stop worrying about losing takes.
Look-Ahead Limiters Prevent Clipping
The F8n utilizes advanced look-ahead hybrid limiters to provide reliable protection against overloading the A/D converters. By adding a small delay of just one millisecond, the limiters are able to "look ahead" at the input signal and anticipate clipping before it's recorded. Experienced recordists will surely appreciate the adjustable limiter settings such as knee, threshold, and attack and release times.
Configurable Recording Settings for Any Situation
The F8n boasts a slew of recording modes and resolutions to choose from—record all eight inputs at a maximum resolution of 24-bit / 192 kHz, record them at up to 96 kHz while printing a stereo mix, or simultaneously record the first four inputs at two different levels to produce safety tracks that can have independent gain, limiting, and more. Also, a pre-record function allows you to capture up to six seconds of audio before you press the record button!
Versatile Multitrack Modes
Maximize portability by recording directly to an SD/SDHC/SDXC card (available separately) for up to 512 GB of storage space. Select MP3 format if you're only recording the stereo mix and really need extended time and minimal file size. Use the BWF-compliant WAV format for uncompressed audio quality and industry-standard file compatibility, or select Ambisonics mode to capture four channels of Ambisonics-compatible audio and have four channels to spare for traditional mics.
Audio Interface Functionality
Alternatively, use the F8n as an 8-in/4-out USB 2.0 audio interface at up to 24-bit / 96 kHz. Connect it to your computer, launch your preferred audio recording program, then enjoy the combination of the F8n's premium mic preamps and A/D converters, plus the familiarity and features of your favorite software. For safe, redundant recording at up to 48 kHz, it is possible to operate the F8n as an audio interface while recording to an SD card.
Ambisonics Support for VR, AR, and 360-Audio
The F8n's Ambisonics mode offers precision A-to-B decoding and balanced gain linking, enabling you to capture professional spatial audio for VR (Virtual Reality), AR (Augmented Reality), and more. Even while using the first four channels for Ambisonics recording, you can utilize channels 5-8 for other signals such as boom and lav mics or an alternate Ambisonics format. A built-in Ambisonics stereo monitor converter allows real-time monitoring of your Ambisonics recording. Download the free Zoom Ambisonics Player software to access user-friendly decoding and editing functions for your 360-audio.
Studio-Quality Performance for Discerning Professionals
The F8n can accommodate all manner of condenser microphones as well as balanced line-level signals via eight locking Neutrik XLR-1/4" combo inputs. Eight studio-quality microphone preamps boasting massive gain (up to 75 dB) and ultra-low noise (-127 dBu EIN) ensure that your sound sources will be amplified with sonic accuracy. Select mic/line-level per input, apply 24 or 48 VDC phantom power per input, adjust each input via a dedicated level knob, and handle hot signal levels (up to +4 dBu in mic mode, or up to +24 dBu in line mode).
Zoom Mic Capsule Input
A Zoom mic capsule input on the F8n accommodates Zoom's line of interchangeable capsules (available separately) in place of inputs 1-2. With mid-side, X/Y, and shotgun mic capsules to choose from, you can be ready to record music, dialog, or sound effects without carting an external microphone setup.
Headphone and Balanced Line Outputs for Flexible Routing and Monitoring
Outfitted with two TA3 balanced main outputs and an unbalanced 3.5mm submix out, the F8n is a capable field mixer. Since the main and sub outs can be fed from different or identical sources, you can easily route to multiple devices such as a camera, DSLR, mixer, or secondary recorder.
With a transparent and high-output 100mW headphone amplifier tied to a dedicated 1/4" stereo output, the F8n provides clean, efficient monitoring of pre- or post-fader levels, independent left/right signals, and alerts for battery and recording status.
Precision Time Code and Synchronization Features
Whether you keep the F8n powered on all day, or shut it down during breaks, rock-solid sync with video cameras, master time code clocks, or additional audio recorders will be maintained. Accurate synchronization is made possible with the F8n's high-end time code features. Standard BNC jacks are dedicated for time code I/O, and a Temperature Compensated Crystal Oscillator (TCXO) boasts super stable time code accuracy to ±0.2 ppm. You can even jam sync the F8n when constant external time code isn't present.
Efficient Remote Control Options
If you need extensive external control, Zoom has you covered. For fast and fluid hands-on remote control, the Zoom F-Control (available separately) is ideal. It features smooth 60mm faders, plus tactile controls for trim, pan, arming tracks, transport operations, and more.
For convenient wireless remote control from an iOS mobile device, use the free F-Control app to quickly monitor and tweak levels, operate transport controls, add metadata, and more.
Power for Hours
To keep up with the pace of on-location production, the F8n offers several methods of powering. Operate it via eight AA batteries (available separately), power it through a Hirose-connected DC battery pack (available separately), or plug it into a wall outlet with the included 12V power adapter. With up to 12 hours of battery life (AA lithium batteries, 16-bit / 48 kHz, 2-channel recording to SD card), you can rely on the F8n hour after hour.
Multifunction Mini-USB Port
A mini-USB port on the F8n serves several functions. Connect it to a computer for file backup or live audio streaming, or connect it to an FRC-8 controller (available separately).
Highly Visible Display
Day or night, view vital information such as audio levels, recording time, battery status, and more on the 2.4" full-color backlit LCD, which also offers a monochromatic mode. Transport controls (the play/pause and record buttons are illuminated), navigation buttons, and per-channel gain, PFL, and 6-segment meters are presented nearby for sound bag–friendly, hassle-free operations.
Zoom AutoMix Software Reduces Ambient Noise
Let Zoom's AutoMix function simplify your job. This smart software automatically adjusts the levels of your mix to reduce the amount of ambient sound, so you can focus on capturing a well-balanced mix. Since you turn AutoMix on/off for each channel, you have complete control over where you want AutoMix to work.
Compact, Portable, and Durable
The rugged build quality and compact size make the F8n an excellent choice for location recording on set and in the field. It's equally well suited for placement in an audio bag or a camera-mounted configuration.
Metadata for Simplified Post Production
Add metadata such as notes and track/scene names in BWF and iXML formats to easily catalog your files in preparation for loading them into your video or audio editing workstation. Make it a habit to make organization and collaboration in post-production easy.
Built-In Slate Function and Tone Generator
The F8n has a built-in slate mic for recording comments, as well as the ability to output a variable frequency tone signal for synchronization with miscellaneous video equipment.
DISPLAY
The F8n's 2.4-inch full-color backlit display with monochromatic mode makes field work equally easy in low or direct lighting.
SLATE SWITCH
The F8n has a built-in slate mic for recording comments as well as the ability to output a variable frequency tone signal.

TRANSPORT CONTROLS
The control panel features stop, search forward and search backward keys as well as illuminated play/pause and record buttons.
INPUT CONTROLS
Each input features a built-in preamp with a dedicated gain control knob and a 6-segment LED level meter.
USB PORT
A USB port enables firmware updates, file transfer, and allows the F8n to be used as an 8-in/4-out USB audio interface operating at sample rates up to 96kHz.

INPUTS
The F8n provides 8 discrete inputs with locking Neutrik XLR/TRS combo connectors, allowing you to plug in any microphone, wireless pack, or line level device. Any input can also be used as a camera return.
SD CARD SLOTS
Record on two SD/SDHC/SDXC cards, up to 512 GB each, simultaneously, allowing you to instantly backup or split recordings.

HEADPHONE JACK
The unit's 1/4" headphone jack also comes with dedicated volume control.

MAIN OUTPUTS
The F8n provides four outputs: two Main Outs (on balanced TA3 mini-XLR jacks) for connection to external mixers and processing devices; and two Sub Outs (on a single unbalanced 1/8" stereo mini-jack) for connection to a camera. The F8n also provides a selectable +4 dBu output.
DC POWER
The F8n can be powered by a 9-18V external DC power supply.
TIME CODE IN/OUT
Timecode can be generated internally or transmitted from an external timecode generator.

10-PIN MIC CONNECTOR
Our proprietary 10-pin connector enables the use of interchangeable Zoom mic capsules, with optional extension cables that allow for remote positioning
front panel of the F8n
FEATURES OF THE F8N
8-channel/10-track field audio recorder/mixer
8 discrete inputs with locking Neutrik XLR/TRS combo connectors
Compact and lightweight aluminum chassis, weighing just
2 pounds (without batteries)
High quality mic preamps with up to 75 dB gain and less than -127 dBu EIN
Switchable +4dB inputs with mic/line options for both XLR and TRS
Advanced Look-Ahead Hybrid Limiters
Zoom AutoMix™ software
Support for up to 24-bit/192 kHz recording, and 44.1 kHz, plus 47.952 kHz/48.048 kHz for HD video compatibility;
16-/24-bit resolution
Accurate Time Code (0.2 ppm when on and up to 0.2 ppm when powered off) I/O on standard BNC connectors; dropframe/non-drop formats with Jam Sync
Three different power supply options: 8x AA batteries, external DC battery pack with Hirose connector, or 12V AC adapter (AA's and DC battery pack not included)
Dedicated gain control knob, 6-segment LED level meter, and PFL/Solo switch for each channel
High pass filter, phase invert, and Mid-Side decoder
Input delay of up to 30 msec per channel / output delay of up to 10 frames per output
Compatible with Zoom microphone capsules; optional extender cable enables remote positioning
Dual mini-XLR (TA3) balanced Main Outs plus ⅛" stereo mini-jack Sub Out
Dedicated headphone output (100 mW) with front panel volume control
2.4" full-color backlit LCD with monochromatic mode
Dedicated PFL display with viewable trim settings
Dual SD/SDHC/SDXC card slots, up to 512 GB each
Records in BWF-compliant WAV or MP3 file formats
Support for extensive metadata (BWF and iXML); input time, date, project, scene number, etc.
Built-in slate mic/slate tone with front panel switch
Use as an 8-in/4-out USB audio interface (@ 96 kHz)
Free Zoom F8 Control App for iOS allows wireless remote control, file renaming, and metadata entry