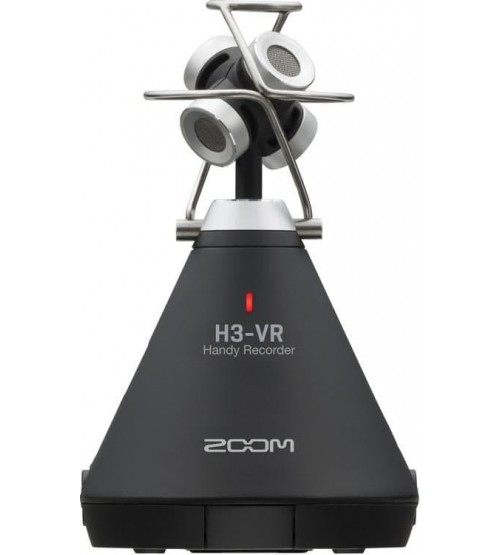 Lihat gambar lebih detail
THE ZOOM H3-VR
VR AUDIO, YOU'VE ARRIVED.
Whether you're a game developer, filmmaker or musician, virtual reality is the undeniable future of content creation. While 360-video is exploding in popularity, the ability to easily create 360-audio has lagged behind
Audio For Every Reality
Ambisonics Audio for VR
The H3-VR's 4-capsule Ambisonic mic captures precise 360-degree VR audio recordings up to 24 bit/96 kHz. And with the onboard decoder allows you to export Ambisonics B-format files directly.
Binaural 3D Stereo The H3-VR also records stereo binaural WAV files up to 24 bit/48 kHz. Stereo binaural provides a hyper-realistic spatial recording that enhances 2D productions with 3D audio.
Standard Stereo The H3-VR even offers standard stereo recording for recordings that will be played out of speakers rather than headphones.
5.1ch Surround for Video
Free to download, ZOOM Ambisonics Player software can easily convert Ambisonics audio to a 5.1ch surround file that is pre-aligned to the proper speakers, and is exported to your video or audio editor for syncing with standard video.
Live Streaming
 360 The H3-VR also enables you to live stream events in 360 degrees so that wherever your fans are, they'll have access to the best seats in the house.