Ezcap EZ-295 HD CapturePro With Playback and Rec Schedule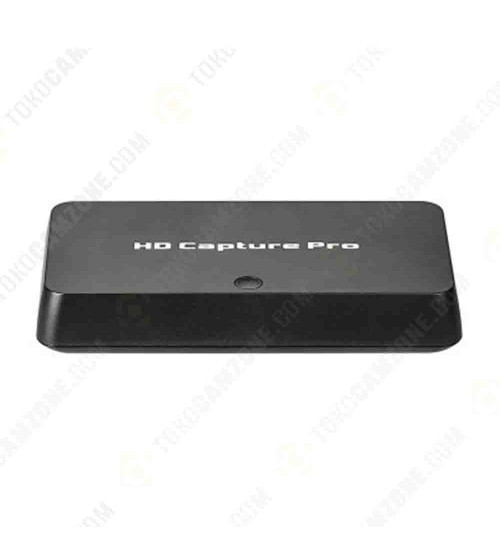 Lihat gambar lebih detail
Key Features...
Record voice and video straight from your TV, PC, or game console with this Full-HD video recorder
Records up to 7GB of footage per hour
Analog support lets you turn old DVDs into modern digital files
Easy to use one button design comes with an LED light indicator
Ezcap 295 Video Recorder


The Ezcap 295 lets you capture 1080p Full-HD video and audio straight from your TV, PC, and other game consoles. Simply connect it to your device and you'll be ready to start recording right away. This little gizmo is perfect for Youtube gamers who wish to video their in-game adventures for later sharing online. Additionally, it can be used with older model analog devices. This makes your gadget great for recording TV shows, movies, or for turning old DVDs into digital files. With it's easy to use one button design and LED light indicator, you can always be assured that your video gadget is working properly.

This Full-HD video recording is compatible with your TV, PC, WiiU, Xbox 360, Xbox One, PS4, PS3, HD camera, and more. Thanks to this, you'll be treated to unlimited usability. It supports different recording modes and furthermore lets you add a watermark. You'll be able to instantly transfer the recording on to a second device or store them on to an external storage medium. By letting you record up to 7GB of footage per hour, this HD video recorder lets you produce plenty of footage throughout the day. Thanks to its audio support, it even lets you record your own voice and commentary along with your recordings.

This HD video recorder comes with a 12 months warranty, brought to you by the leader in electronic devices as well as wholesale electronic gadgets..
Manufacturer Specifications
Interface: USB 2.0 Host
Video Input: Digital: HDMI
Video Input: Analog: Component Video, Composite Video
Audio Input: Digital: HDMI
Audio Input: Analog: RCA L/R, 3.5mm MicroPhone In
Video Output: Digital: HDMI
Audio Output: Digital: HDMI
Audio Output: Analog: 3.5mm Stereo Line Out
Applicable Connection: WiiU, Xbox 360, Xbox One, PS4, PS3, HD Camera, Set-Top Box, Medical device
Codec: Hardware H.264 encoder
Storage Media: USB Flash Drive, USB Portable Hard Disk (Max Capacity: 2TB, Note: The exFAT format is not supported)
Input Resolution: 720x480 (60p), 720x576 (50p), 1280x720p (50p), 1280x720p (60p), 1920x1080 (50i), 1920x1080 (60i), 1920x1080 (24p), 1920x1080 (25p), 1920x1080 (30p), 1920x1080 (50p), 1920x1080 (60p)
Capture / Output Resolution: 1280x720p(60p), 1920x1080 (30p), 1366x768 (60p)
Recorded Video Format: MP4, Audio: AAC Stereo
Record Quality (Max.): 16Mbps at 1080P 30fps. Can choice recording bitrate: 4M/10M/16M
Record File Splite: 1.95GB/Per File, Un-Splite depends storage, named with system time.
Record Place Max: around 120MB / Minute, around 7GB / Hour
User Interface: On-board Hot Button for one-click recording
LED indicator for working status
Power Supply: Mini USB DC 5V / 2A
Personal recording settings: Schedule recording, Snapshot, recording bitrate, recording resolution, Splite/un-splite recording, watermark, Mute/volume adjust, MicroPhone Mute/adjust, Aspect Ratio

Dimensions
Main Product Dimensions: 135x 70x 25mm (L x W x D)
Main Product Weight: 117g
Technical
Warranty
Non Warranty