Blackmagic Design Production Camera 4K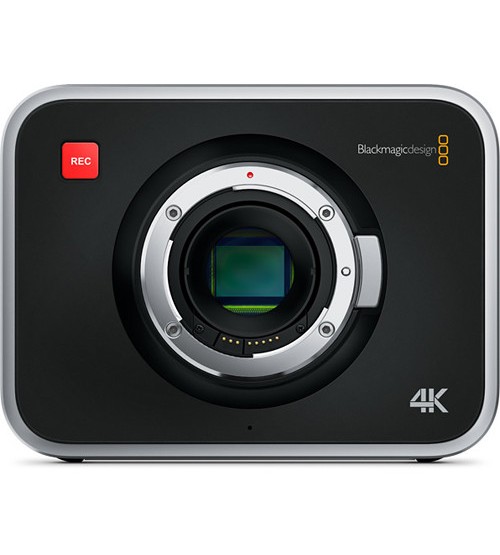 Lihat gambar lebih detail
Product Description
The Blackmagic Design Production Camera 4K features a Super 35mm sized image sensor with a global shutter and a Canon EF compatible lens mount. The camera is capable of recording Ultra HD 4K in the visually lossless, compressed CinemaDNG RAW or Apple ProRes 422 (HQ). The built-in recorder utilizes removable 2.5" SSDs, which enable the high data rates required by RAW and 880Mbps ProRes. The camera's ability to expose for 12 stops of dynamic range lends the image a truly film-like look, and the Super 35mm (21.12 x 11.88mm) sized sensor approximates the standard of traditional film.

The Blackmagic Production Camera 4K retains the beautifully crafted design and machined aluminum chassis of the original Blackmagic Cinema Camera. Much like its predecessor, this camera features a 5" touchscreen LCD display with 800 x 480 resolution, which enables monitoring and playback as well as an efficient means for navigating the menu and entering metadata. The camera also includes a full license for DaVinci Resolve color grading software and UltraScope for live scopes via a Thunderbolt connection.

PLEASE NOTE: The camera cannot format SSD drives. SSD drives have to be formatted (via an external 2.5" compatible dock) as HFS+ on a Mac, or by using Macdrive (not included) on a Windows PC.
Super 35 Sensor with Global Shutter
With a large Super 35 size sensor you get familiar framing and behavior from the lenses you already own. The sensor features a global shutter so you get perfect panning, without rolling shutter artifacts.
Canon EF Compatible Lens Mount
With the EF compatible lens mount you can choose high quality optics that are designed to take advantage of the large Super 35 size sensor with minimal cropping. Use lenses from leading manufacturers like Canon, Zeiss, Nikon and more. The active mount enables full electronic control with compatible EF mount lenses.
Ultra HD 4K and 1080HD
The Blackmagic Production Camera 4K records Ultra HD 4K and 1080HD in visually lossless compressed CinemaDNG RAW and ProRes 422 (HQ) files. At a massive 3840 x 2160 pixels, Ultra HD 4K is 4 times the size of 1080HD. The camera also features a single 6G-SDI output which supports Ultra HD live production.
Built-in SSD Recorder
The camera's built-in recorder utilizes removable 2.5" SSDs. You can playback directly from the camera, mount the disk to any computer, or use Blackmagic Design's HyperDeck Studio deck. When finished shooting, simply connect the SSD to a computer and edit or color grade shots straight from the disc.
12 Stops of Dynamic Range
With 12 stops of dynamic range you get amazing looking images beyond those of regular video cameras or even many high-end broadcast cameras. All this dynamic range is captured into ProRes or CinemaDNG files at 4K resolution, so images retain a beautiful film look. By capturing more detail from the sensor you have greater creative flexibility in post production. You can really push the shadows or highlights in either direction and preserve fine details.
Standard Connections
The Blackmagic Production Camera 4K uses standard connections, so you never need to source custom cables. It includes a 6G-SDI connection for Ultra HD resolution or down converted HD output over a single SDI cable. The built in Thunderbolt connection lets you plug into a laptop computer and use the included UltraScope software for real time waveform monitoring, and the 1/4" jack mic/line inputs enable high quality uncompressed audio recordings. Other connections include a 12 to 30 volt DC input, a 3.5mm headphone input socket and LANC remote control.
Touchscreen LCD Display
The integrated 5" LCD display features 800 x 480 resolution and touchscreen technology. Use the capacitive touchscreen to access menus and change settings such as recording format, shutter angle and more. Double tap the screen to zoom into the image for fast and accurate focus. Tap once on the screen to display the metadata entry page where you can enter information such as shot number, search tags, scene number, timecode and more. You can even set shot number and other data to increment automatically. This metadata saves directly into your files and is compatible with popular editing software, simplifying file management in post production.
Flexible Power Options
The inclusion of an internal rechargeable battery makes the Blackmagic Production Camera 4K a truly portable high resolution camera. You get up to 90 minutes of recording time from the battery and the remaining power information is shown in the data strip at the bottom of the picture. The wide input voltage of 12-30V means you can connect external professional battery packs that will let you operate the camera longer while recharging the internal battery at the same time.
Remote Control
The LANC protocol is a standard method for the remote control of many professional cameras. The Blackmagic Production Camera 4K features a standard 2.5mm jack for connecting to a remote that lets you trigger the camera to start and stop recording, plus it supports electronic lens control of the focus and iris, all using an industry standard protocol and jack connection.
Other Features
The Blackmagic Production Camera 4K also includes DaVinci Resolve color grading software and UltraScope. The FOCUS button turns the peaking display on and off, and the IRIS button adjusts iris settings when used with a compatible EF mount lens. Other features include an integrated mono microphone, a mono speaker, three 1/4"-20 UNC threaded mounting points on the top of the camera and one 1/4"-20 UNC threaded tripod mount with locator pin on the bottom.

Product Specifications

Sensor Size
21.12 x 11.88mm (Super 35)
Effective Resolution
3840 x 2160
Dynamic Range
12 stops
Lens Mount
EF and ZE mount compatible with electronic iris control
Recording
Recording Media
Removable 2.5" SSD Mac OS Extended or exFAT format. SSDs can be formatted on any Mac or use Mediafour MacDrive (not included) on a Windows PC.
Recording Format
Apple ProRes 422 (HQ) (3840x2160 and 1920x1080)
Compressed CinemaDNG RAW (3840x2160 and 1920x1080)
Bit Rate
880 Mbps using Apple ProRes 422 (HQ)
Recording Resolution
3840 x 2160 OR 1920 x 1080
Frame Rates
3840 x 2160p: 23.98, 24, 25, 29.97, 30
1920 x 1080p: 23.98, 24, 25, 29.97, 30
1920 x 1080i: 50, 59.94
Display
Display Type
Integrated LCD capacitive touchscreen
Display Size
5"
Display Resolution
800 x 480
Interface
Compliance
SDI: SMPTE 292M
Video Output
6G-SDI (x1) for 10-bit 4:2:2 with choice of Film or Video dynamic range
Audio Output
SDI: 2 channels, 48 kHz and 24 bit (embedded in 6G-SDI)
Analog: 3.5mm stereo headphone jack (x1)
Analog Audio Input
1/4" jacks (x2) for professional balanced analog audio (switchable between mic and line levels)
Computer Interface
Thunderbolt port for capture of HD video and audio (x1)
USB 2.0 mini B port for software updates and configuration (x1)
Remote
2.5mm LANC (x1)
Power Input
11 - 30 VDC port for external battery power or 12V AC adapter
General
Built-In Microphone
Integrated mono microphone
Built-in Speaker
Integrated mono speaker
Operating System
Mac OS X 10.8 Mountain Lion or later
Windows 7 or later
Power
11 - 30 VDC
Battery
Built-in Battery Life: approx. 90 minutes
Battery Charge Time: approx. 2 hours when not in use
Operating Temperature
32 ~ 104° F (0 ~ 40° C)
Storage Temperature
-4 ~ 113° F (-20 ~ 45° C)
Relative Humidity
0 ~ 90% non-condensing
Dimensions
6.53 x 4.45 x 4.96" (166 x 113 x 126 mm)
Weight
3.75 lb (1.7 kg)
Technical
Display Size
5"
Memory Card Type
Removable 2.5 SSD
Battery
Integrated Lithium-ion Polymer
Warranty
1 Year Service & Spareparts