Sony Professional PDW-850 XDCAM HD422 2/3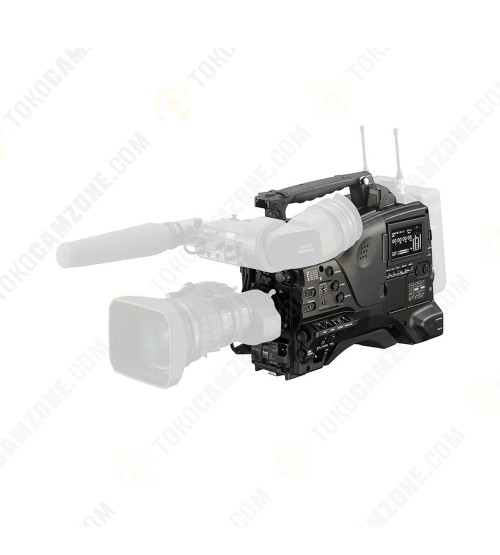 Lihat gambar lebih detail
Product Highlights
1920 x 1080 Native Resolution
Three 2/3" PowerHAD FX IT CCDs
Records MPEG HD422 50 Mb/s to XDCAM Disc
Onboard 960 x 540 Resolution LCD
USB for Proxy Recording, Scene Files
Digital Extender: 2x, 4x, 6x
HD/SD-SDI, Composite Pool Feed Input
50-Pin Connector for CCU Control
Supports CBK-WA100 Wireless Adapter
D-Tap and 4-Pin DC Output.


The PDW-850 XDCAM HD422 2/3" 3CCD Camera from Sony features an ENG-style shoulder mount design suitable for use in the field or can be adapted to the studio thanks to support for CCU control and a "pool feed" video input. Recording to the XDCAM professional disc format, the camera records in MPEG HD422, a broadcast-spec 50 Mbps codec with 4:2:2 color sampling. The camera can also record in MPEG HD420 for longer recording times and is able to record legacy standard definition video in DVCAM or MPEG IMX. If features a standard 2/3" B4 lens mount and the lens. Viewfinder (VF), and batteries or power source are all available separately.

The 1920 x 1080 native picture is achieved thanks to three PowerHAD FX IT CCDs. The three-chip design splits up color into its three RGB components thereby avoiding the interpolation and potential loss of detail on most single-chip designs. The camera can record at multiple frame rates up to 60p, including PAL area frame rates (50p/25p), plus several 24p implementations.

Built-in GPS means that location data can be included in the video metadata for reference later. A USB port allows proxy files to be saved to and external storage device, saving scene data so that a specific "look" can be recycled later, firmware updates, and connection of the separately available CBK-WA100 wireless adapter for remote operation and proxy file transfer.

Because the XDCAM media supports random access, it is possible to jump almost instantly to any clip selected from the thumbnail menu. At the same time, the format provides a professional grade media designed specifically for video recording to provide the same confidence one has when using a tape format. The camera supports both the PFD50DLA and PFD23A size professional discs for up to 95 minutes recording in the highest quality.

Technical
Video Resolution
1920 x 1080
Display Size
3.5"
Memory Card Type
XDCAM Disc
Battery
BP-l80S / BP-GL95
Warranty
Non Warranty