Sigma For Canon 150-600mm f/5-6.3 DG OS HSM | S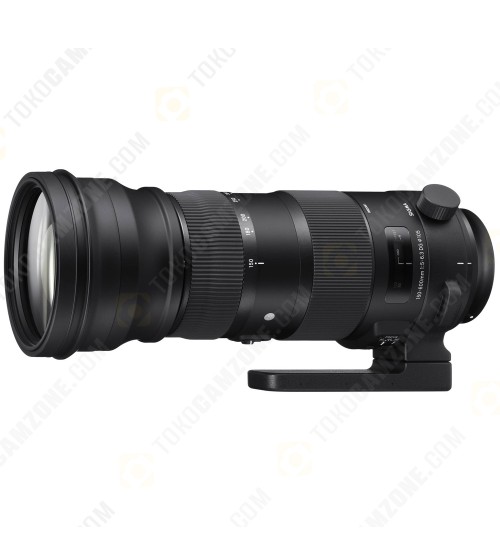 Lihat gambar lebih detail
PRODUCT HIGHLIGHTS
· Canon EF Mount/Full-Frame Format
· Aperture Range: f/5-6.3 to f/22
· Two FLD and Three SLD Elements
· Super Multi-Layer Coating
· Hyper Sonic Autofocus Motor
· Optical Stabilizer with Intelligent OS
· Zoom Lock and Manual Override Switches
· Dust- and Splash-Proof Construction
· Maintains AF/AE Between Camera and Lens
Pairing a long-reaching telephoto zoom with a teleconverter to further extend its reach, the Canon EF-mount 150-600mm f/5-6.3 DG OS HSM Sports Lens from Sigma is a complete lens setup ideal for sports, wildlife, and nature photographers.

The 150-600mm f/5-6.3 DG OS HSM lens covers an extensive range of telephoto focal lengths and employs two FLD and three SLD elements within its optical design to produce highly corrected imagery that is void of chromatic aberrations and color fringing. A Super Multi-Layer Coating has also been applied to suppress lens flare and ghosting for increased contrast and color fidelity when working in strong lighting conditions. Complementing the optical aspects, the lens is also characterized by an apt Optical Stabilizer system that helps to minimize the appearance of camera shake for sharper handheld shooting. A Hyper Sonic Motor also provides quick, quiet focusing performance and the dust- and splash-proof construction benefits working in harsh climates.

Included with the lens is the TC-1401 1.4x Teleconverter, which extends the effective focal length of the 150-600mm lens to 210-840mm with a one stop loss of light. The teleconverter's design maintains communication between the camera and lens, including both autofocus and auto-exposure controls, and one Special Low Dispersion element is featured in the optical design to maintain the lens' quality.
This Bundle Includes:
· 150-600mm f/5-6.3 DG OS HSM Sports Lens for Canon EF
Bringing excellent performance in a super telephoto zoom lens, the Sigma 150-600mm f/5-6.3 DG OS HSM Sports Lens, designed for Canon EF-mount cameras, is optimized for full frame sensors and has a weatherproof construction. The lens features an aperture range from f/5-6.3 to f/22 and utilizes two FLD and three SLD elements for control over aberrations and distortion. It also features a Hyper Sonic Motor for fast, quiet autofocus and an Optical Stabilizer with an accelerometer for improved panning performance and reducing the effects of camera shake.

Built into the lens barrel are two switches, one zoom lock that can hold the lens at any focal length and a manual focus override for when more precise control is required. It also has a minimum focus distance of 102.4" and a rotatable tripod collar. It is compatible with the Sigma USB Dock for focus microadjustment and firmware updates and comes with a lens hood, case, and shoulder strap.
- Works with Sigma's Global Vision line of teleconverters
- Lens construction with 24 elements in 16 groups
- Water and oil-repellent coating on the front and rear elements
- "F" Low Dispersion, or FLD, glass is designed with performance similar to flourite elements with a low refractive index and low dispersion for clearer and sharper imagery
- Special Low Dispersion, or SLD, glass elements assist in providing greater clarity and contrast to an image
- Nine rounded diaphragm blades for smooth out of focus elements
- Maximum magnification ratio of 1:5
- Front thread for accepting 105mm filters
- It is 4.8" wide by 11.4" long
- Eligible for Sigma's Mount Conversion Service
·
Technical
Warranty
2 Year Service & Spareparts