Sony A Teleconverter Lens 2.0X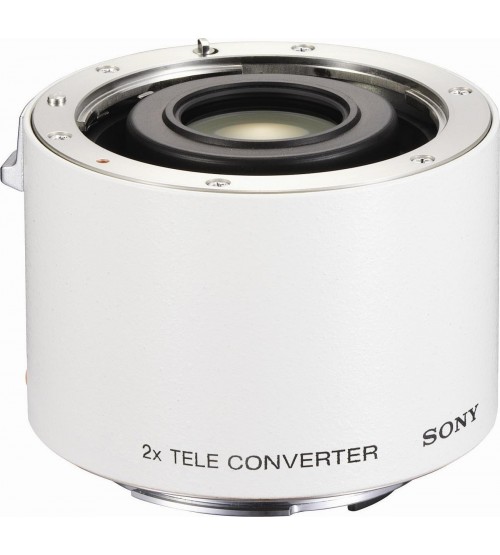 Lihat gambar lebih detail
Features :
Using the compact SAL20TC teleconverter lens, you cant extend the focal length of compatible á (alpha) telephoto lenses by 2x allowing you to capture distant subjects without the burden of extra equipment. SAL20TC is compatible with SAL135F28 and G Series SAL70200G, SAL70400G, SAL300F28G only.
Lighten Your Load
Carrying this versatile tele-converter lens allows you to increase your telephoto shooting capability without carrying extra equipment -- a significant advantage on long wilderness treks or while traveling on vacation.
Superb Optical Performance
With these precision Sony tele-converter lenses, you'll preserve both the accuracy and the image quality of your primary lens.
Open Aperture Settings
When using these tele-converter lenses, remember to compensate for their reduced light transmission by opening your aperture two steps with the 2X converter.
Product Specifications
Weights and Measurements
Dimensions (Approx.) : 2-1/2 x 1-11/16` (64 x 43.5 mm)

Weight (Approx.) : 7.06 oz (200 g)

Optics/Lens
Aspheric Elements : no aspheric

Lens Groups-Elements : 5 groups, 6 elements

Lens Type : Telephoto & Telephoto Zoom

Tele-converter Compatibility - 2.0x : Compatible with Sony 135mm f/2.8 STF (Smooth Transition Focus) lens; Compatible with Sony G-Series 70-200mm f/2.8 G Telephoto Zoom; Compatible with Sony G Series 300mm f/2.8 G Telephoto lens.
Compatible Items
Sony products offer complete compatibility to enhance each other`s performance and capabilities. Together with the noted accessories, these items are the ideal enhancements for the product above.
135mm f/2.8 (4.5) Telephoto Lens.

70-200mm f/2.8 G-Series Telephoto Zoom Lens

300mm f/2.8 G-Series Telephoto Lens

70-400mm f/4-5.6 G-Series Telephoto Zoom Lens
Technical
Warranty
1 Year Service & Spareparts