AJA HA5-Fiber HDMI To 3G-SDI Fiber Mini Converter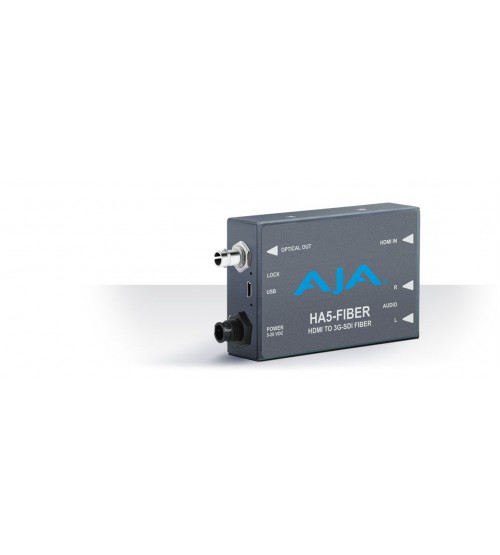 Lihat gambar lebih detail
HA5 with ST Fiber Output, HDMI to 3G-SDI protocol on Fiber
The HA5-Fiber converts a HDMI input to 3G-SDI over single mode 1310 nm fiber optic cable (ST-style fiber connector) for transporting HDMI sources over fiber. The small form factor enables this Mini-Converter to easily fit onto the back of a camera or neatly behind an equipment rack.
Embedded 8-Channel audio is supported in the fiber output allowing a convenient single cable audio/video connection up to 10km. The HA5-Fiber also provides 2-Channel RCA style audio inputs for a stereo audio input when needed.
Features
HDMI to 3G-SDI over fiber
Supports single mode 1310 nm fiber optic cable with ST transmitter
Full HDMI input support including embedded audio
Additional 2-Channel RCA style analog audio (-10dBu nominal) input
No configuration necessary
1m HDMI cable included
five year warranty
Universal Power Supply
All AJA Mini-Converters ship with a universal power supply that includes international plug connections for use around the world.
Compact and Portable
AJA Mini-Converters are small enough to fit behind a monitor, in the back of a rack or directly on a camera rig. A locking power connector can't accidentally pull loose and an optional P-TAP power cable allows for battery power in remote locations.
AJA Quality - Guaranteed
All AJA Mini-Converters are covered by a five year warranty and AJA's advanced replacement policy. If a replacement is necessary, AJA will ship a new unit immediately without the need to send the original unit back first, ensuring you are up and running again as quickly as possible.
AJA Mini-Matrix
Information on the complete line of AJA Mini-Converters is now available as a mobile app on iOS. The Mini-Converter product line is extensive and this app helps you find the right converter for any situation, wherever you are.