NITECORE USN1 Dual-Slot USB Travel Charger for Sony NP-FW50 Lithium-Ion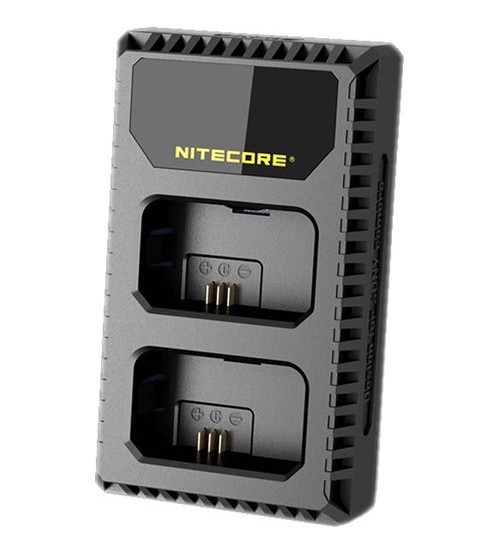 Lihat gambar lebih detail
NITECORE USN1 Dual-Slot USB Travel Charger for Sony NP-FW50 Lithium-Ion Batteries

Restore poer to your Sony NP-FW50 lithium-ion batteries with this compact USN1 Dual-Slot USB Travel Charger from Nitecore. It operates on 5 VDC input power, and features an attached USB cable that's stored in a trough to save space and prevent damage. The USB plug allows for connection to one of various user-supplied adapters, portable power banks, and solar panels, making the unit ideal for travel, camping, and almost any other adventure in your life. When used in conjunction with 2 fully charged 18650 batteries, Nitecore's own F2 flexible bank will provide enough juice to charge both Sony NP-FW50 packs.
The sophisticated USN1 contains a smart charging management system, which monitors battery status and displays voltage, charging current, temperature, battery capacity, and battery power level on the LCD monitor. Then, it automatically chooses the most appropriate charging mode based on this data. The device also provides battery condition monitoring, carrying out a health inspection and reporting cell status as good, normal, or poor on the LCD.
The USN1 offers mechanical protection against reverse polarity, preventing charging from occurring if an incompatible or incorrectly installed battery is present. Additionally, the error message "EE" will appear on the LCD to notify you if a short-circuited battery is detected.
Built for durability, the USN1 is made from polycarbonate and ABS plastics that are corrosion-resistant and fire-retardant. The charger operates in full compliance with ISO9001 quality control and management guidelines, and meets CE, RoHS, FCC, CEC, REACH, KC, and C-TICK standards.
Compatible Batteries

Sony:
Compatible Cameras

Sony Alpha Series:

NEX-3
NEX-5
NEX-6
NEX-7
SLT-A33
SLT-A55
Charger
DC Input Power
5 VDC at 2 mA
Output Voltage
8.4 VDC, 1000 mA
Charging Time

Not Specified by Manufacturer

Number of Battery Bays
2
Multi-Bay Charging Modes
Simultaneous
Indicator
LCD Display
USB Port
1 x USB Type-A
Cable Length

Not Specified by Manufacturer

Dimensions (W x H x D)
3.3 x 2.0 x 1.0" / 85.0 x 50.0 x 26.5 mm
Weight
2.08 oz / 59 g
Packaging Info
Package Weight
0.25 lb
Box Dimensions (LxWxH)
7.5 x 2.8 x 1.2"
Technical
Warranty
Non Warranty