Yongnuo YN560 III For Canon / Nikon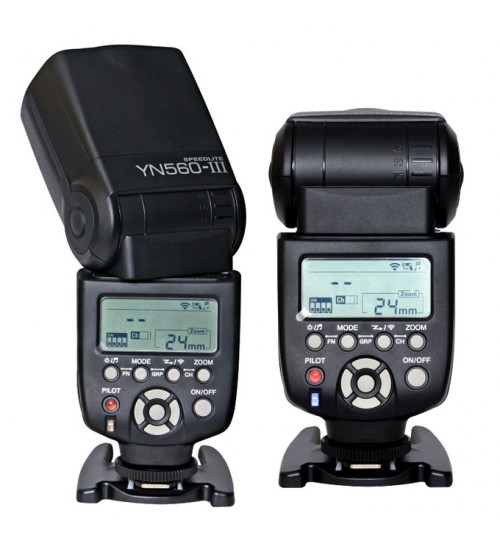 Lihat gambar lebih detail
Specification:

a, Using RF-602/RF-603 2.4G ultra-long-range wireless flash system

Adopted by global users trust the allways RF-602/RF-603 wireless flash system. Support 2.4G ultra-long-range wireless flash, the lead flashing distances up to 100 meters above.

b, Full support for RF-603, RF-602 wireless transmitter

Same YN560-III can accept RF-603 and RF-602 wireless transmitter emits a signal, supports 16 channels, wireless flash easily.
c, Large-size LCD display

The YN560-III is equipped with large-size LCD screen, easy clear, intuitive view or set the flash of the function, and easy to use.

d, Equipped with power zoom function

ZOOM button, you can make a lamp covering a focal length between 24 ~ 105mm cycle movements.

e, GN58 @ ISO100, 105mm

High index 2.4G radio flash support M / Multi mode.

f, Various trigger synchronization, flexible

The YN560-III can be triggered by the camera-top, 2.4G radio trigger, S1 and S2 to avoid the pre-flash-sensitive trigger.

g, Equipped with an external power outlet

The YN560-III is equipped with an external power outlet, to meet your higher demand for call back speed, you can buy SF-18 Canon version to fit for it.

h, Equipped with a PC sync port

The YN560-III equipped with a standard PC synchronous port, using a PC sync cord flash sync flash.

i, Voice prompt system

Open to the voice prompts, the flash voice prompts work state, so you can focus on the creative process (Note: the sound can be turned off).

j, a speeding call back system

Full light output recycling time of just three seconds, even without using the new battery, but also to get the speed of call back experience, only 4 to 5 seconds; You can also use external charging box call back again accelerated.

k, Advanced Options settings

The YN560-III with Advanced Options settings according to their needs, you can customize the flash function.

l, automatically save set

The YN560-III can automatically save your current operating settings, to facilitate the next time you boot.

m, metal texture hot shoe interface, rugged, reliable, and to the force.
Technical
Warranty
3 Month Service