Yongnuo YN660 For Canon / Nikon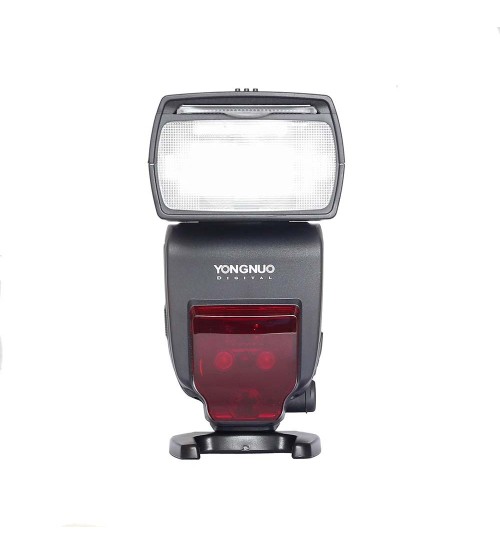 Lihat gambar lebih detail
Yongnuo YN660 is the latest model in the very popular line of Yongnuo's manual flashes. This radio-enabled flash have an all-new design (since the YN560-series) with a new interface, a higher guide number of 66 and a longer zoom range up to 200mm.
Yongnuo YN660 supports Yongnuo's full 2.4GHz manual flash control system. YN660 can act as a master flash for the previous-generation Yongnuo YN560 III and YN560 IV flashes, and as a slave (with remote adjustment) to the YN560-IV flash and Yongnuo YN560-TX commander. Crucially, you are able to control up to six groups of flashes, providing a very high level of creative control for your lighting setups (assuming you have that many flashguns available). Basic manual triggering with the RF-602, RF-603 (II) and RF-605 radio slaves is also built-in.
There is no TTL support in the YN660, which has the advantage of making it truly universal, supporting any camera system with a hot-shoe or sync port interface, or even those without, using the built-in optical slave.
YN660 / YN560 IV are very popular flashes worldwide. At a fraction of the cost of some top end Canon or Nikon flashes you can now have very capable unit. Combine few of these with Yongnuo YN560-TX master commander or RF603 II/RF-605 wireless trigger you will have a perfect lighting solution for studio or on-location shooting
SPECIFICATIONS:
GN 66m (ISO 100 / 200mm)

Flash Mode – Manual / Multi

Manual Flash – 1/128 – 1/1 output control (1/3rd increments)

20 – 200mm Manual Flash Zoom

Built-in Radio Master Modes – YN-560 / RF-603 (2.4GHz RF Systems).

Built-in Radio Slave Modes – YN-560 / RF-603, and RF-602 (2.4GHz RF Systems).

Supports 6 Flash Groups

Supports 16 Channels

Full Power Recycle – From 3 Seconds

S1 & S2 Optic Slave Modes

Custom Functions

Auto Save Settings

Sound Prompt

Heat Protection

Large LCD Screen

360 Degree Swivel and Tilt Head

Fast Clamping Metal Foot

External HV Battery Port

PC Sync Port

Technical
Warranty
3 Month Service