Commlite Auto Focus for Canon Tamron Sigma Lens to Fujifilm FX Mirrorless Camera Adapter CM-EF-FX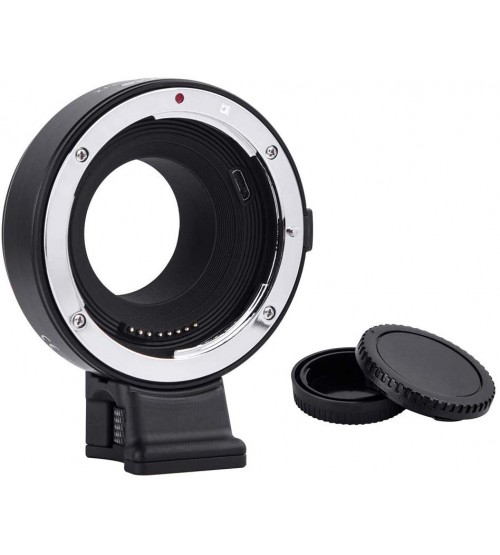 Lihat gambar lebih detail
【Compatibility】Compatible with EF Lens to Fujifilm FX Mirroless Cameras. Fujifilm:X-H1 X-PRO2 X-T100 X-T2 X-T3 X-M1 X-T1 X-T20 X-A5 X-T10 X-E2 X-E1 etc.Please check your cameras or lens fits this lens adapter before you purchase.

【With USB port firmware update】For adapter firmware update, connecting the adapter to the computer with USB cable and execute latest file download from official website. Do not require to attach the adapter to your camera.

【AF Function&Aperture Control】Commlite CM-EF-FX lens adapter comes with the Gold-Plating Contact,fast detection and accurate tracking, effective AF and also adjust the aperture of EF lens by control Fujifilm FX Mirroless Camera to achieve better shooting.

【EXIF signal transmitting&IS Function】Designed with gold plated PIN has excellent signal transmission performance while it supports EXIF signal transmission.Built-in IS function, making your focus much more precise and clear.

【Design&Material】Made of aluminum alloy, with a strong and stable performance and a removable and standard 1/4 tripod to the bottom of the camera fixed,convenient for connection with tripod and other supports.




Commlite new Electronic AF Lens Mount Adapter from Canon EF/EF-S Lens to Fujifilm FX Mount Camera can achieve multiple functions as:USB Firmware Upgrading; EXIF INFO. Transmitting Function; Auto Focus; Electronic Aperture Control; Built-in IS Stabilization Function.Besides, it is Powerful and Stable for the Aluminum alloy made material. CM-EF-FX will definitely bring more professional shooting experience to you.

Please Note:Continuous autofocus(AF-C) function is not available in video mode.

We are always here to help you if you do not know whether this adapter fits your camera and lens!

Notice

This adapter is built-in with USB firmware upgrade port which please pay attention to Commlite website to learn the update information in the first place;

After installing EF-FX, please set the lens to AF mode if the AF function is required;

Please hold your camera tightly, during your moving shooting when your lens is heavier than the camera;

For some incompatible camera and lens, one can try to use the adapter as the manual adapter; During the usage,while it shows prompt like 'Incorrect installation of lens' , please set the menu mode to 'Release Shutter without Lens' or 'Shutter Priority';

Please Note:

Continuous autofocus(AF-C) function is not available in video mode.
Technical
Warranty
Non Warranty