Atomos Shogun 7 HDR Pro/Cinema Monitor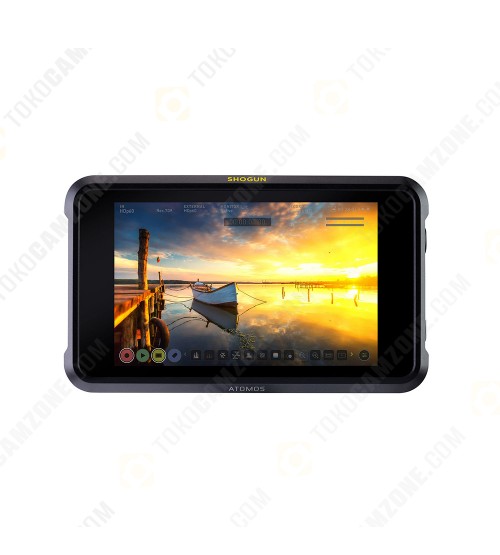 Lihat gambar lebih detail
Atomos Shogun 7 is a precision HDR monitor-recorder-switcher designed for the film and video professional. It can be used as either a stand-alone field monitor, recorder and switcher for event, documentary and live in-the-field storytelling; or as a tool for large-scale on-set episodic TV, film and cinema productions where multiple crew members such as focus pullers, grips and cinematographers require a consistent visual reference across the field monitor ecosystem. Shogun 7's portable size lets you monitor, analyze and tag while on set; and check how your content will look in your audience's home via real-time Dolby Vision output. With Shogun 7 you're not locked into any format, camera manufacturer or pipeline. It is a completely flexible master recording and production station.

Weight
Without batteries & media
709g / 25oz.
Dimensions (W x H x D mm)
214 x 127 45mm
Construction
Polycarbonate ABS
Mounting points
1/4"-20 screw mount. 1x top and 1x bottom
Power
Operating power
10 - 33W
Compatible batteries
Atomos NP-F series and supporting accessories
Input voltage (battery)
6.2V to 16.8V
Battery time (based on 2 x 7.4V)
5200mAh - up to 1.5hrs (monitor & record 4K 30p)
7800mAh - up to 2.2hrs (monitor & record 4K 30p)
DC In
1 x DC in (6.2 - 16.8V)
Touchscreen
Size
7.2"
Resolution
1920 x 1280
PPI
325
Aspect ratio
16:9 native
Color Gamut
Up to Wide color gamut (105% DCI-P3)
Look up table (LUT) support
3D LUT (.cube format)
Anamorphic de-squeeze
2x, 1.5x, 1.33x
Technology
Dynamic AtomHDR zoned backlight
IPS LCD
Dynamic AtomHDR Technology
Backlight
Direct LED
Zones
360 direct backlight individual LEDs
LEDs
Wide Color Calibrated D65 or D95
Bit depth
10-bit (8+2 FRC)
Color
DCI-P3 105%
Brightness
1500nit (+/- 10%)
Control
On the fly real-time brightness analysis for LED control
HDR Conversion
Log/RAW to HLG or PQ
HDR Monitoring Technology
Gamma
Sony SLog / SLog2 / SLog3 Canon CLog / CLog2 / Clog3 ARRI Log CEI160 / LogCEI200 / LogCEI250 / LogCEI320 / LogCEI400 / LogCEI500 / LogCEI640 / LogCEI800 / LogCEI1000 / LogCEI1280 / LogCEI1600 Panasonic Vlog JVC JLog1 RED Log3G10 / RED LogFilm FujiFilm F-log Nikon N-Log PQ10k HLG
Gamut
Sony SGamut / SGamut3 / SGamut3.cine Canon Cinema / DCI P3 / DCI P3+ Nikon Bt2020 Panasonic V Gamut Arri Alexa Wide Gamut Rec709 / BT.2020 JVC RED WideGamut / RED DragonColor / DragonColor2 / RED Color2 / RED Color3 / RED Color4 /
Video Input/Loop Out
HDMI
HDMI 1 x HDMI (2.0)
SDI
Quad Link 4 x 3G/6G SDI*, 4 x 3G-SDI, 2x 12G single link SDI
Signal
Uncompressed true 10-bit or 8-bit 422
(camera dependent)
Genlock
Genlock input signal and output signal
Video Output (Play Out)
HDMI
1 x HDMI (2.0)
SDI
2x 4K-SDI 12G or HD-SDI 3G/6G
Signal
Uncompressed true 10-bit or 8-bit 422
(playback file dependent)
Video Signal Conversion
HDMI to SDI
-
SDI to HDMI
-
Audio In/Out (48kHz PCM Audio)
HDMI
2 or 8ch 24-bit, camera dependent
SDI
12ch 48kHz 24-bit
Audio
2ch balanced XLR analogue in/out
Dynamic range >90dB
Max signal level +24dBu
Max analogue gain +52dB
48V Phantom Power for Mic
Headphone out
3.5mm 2ch.
upported Codecs & Frame Rates (Record & Playback)
Raw to:
ProRes RAW
ProRes
CinemaDNG
(CDNG up to 30p only)
Avid DNxHD

Sony

^^


FS700, FS-5, FS-7, FS-7MkII
4K DCI; 24/25/30/50/60p
4K UHD; not supported in camera
2K; 24/25/30/50/60/100/120/200/240p
1080; not supported in camera

Canon
C300MKII/C500 CDNG
4K DCI; 24/25/30p
4K UHD; 24/25/30p
2K; not supported in camera
1080; not supported in camera

Panasonic
VaricamLT, EVA1
5.7K DCI; 24/25/30p (EVA1 ProRes RAW only)
4K DCI; 24/25/30/50/60p
4K UHD; 24/25/30/50/60p
2K; 24/25/30/50/60/100/120/200/240p 1080; not supported in camera

Supported base resolution & FPS from cameras
4K DCI: 23.98/29.9/59.94p
4K UHD: 23.98/29.9/59.94p
2K DCI: 23.98/29.9/59.94p
1080p: 23.98/29.9/59.94p

Supported FPS & resolution from gaming consoles and graphic cards
1080p; 24/25/30/50/60/100/120
Onboard Processing
Pulldown removal
24/25/30pSF > 24/25/30p (2:2 pulldown)
60i > 24p (3:2 pulldown)
4K UHD downscale for HD monitoring
Yes - Loop-out and playback (Not available in RAW)
Technical
Warranty
1 Year Service & Spareparts