Azden SMX-30 Stereo/Mono-Switchable Video Microphone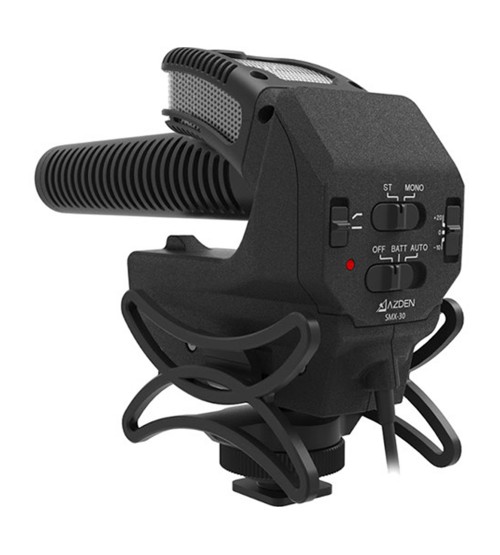 Lihat gambar lebih detail
PRODUCT HIGHLIGHTS
Stereo and Mono Recording Modes
-10, 0, and +20 dB Level Adjustment
1/8" Stereo Mini-Jack Output
-10 dB Pad
Selectable @ 120 Hz Low-Cut Filter
Operates on Two AA Batteries
Low Noise & High Sensitivity
40 Hz to 20 kHz Frequency Response
Integrated Shock-Absorbing Shoe Mount
Includes Foam Windscreen
The SMX-30 Stereo-/Mono-Switchable Video Microphone from Azden is a battery-powered microphone with separate stereo- and shotgun-style microphone units that can be switched between mono and stereo recording modes. It can be used to produce pro-quality sound for DSLRs and other compact cameras in applications for interviews, weddings, presentations, and more.
Housed inside an innovative casing, the SMX-30 is two microphones packaged into one. The stereo microphone is positioned at the top and consists of two cardioid polar patterns spaced apart at a 120° angle. The mono microphone uses a supercardioid polar pattern to focus on sound in front of the camera. It has the same high-quality element as Azden's SGM-250 shotgun microphone.
Using the built-in +20 dB gain booster to get a strong clean audio signal into your camera, the SMX-30 minimizes the need to turn up noisy preamps usually associated with DSLRs, and also includes a -10 dB pad to protect against distortion when recording in loud environments such as live concerts and motorsport events.
Furthermore, the microphone has a wide frequency response of 40 Hz to 20 kHz and has a full, natural sound. There is a low-cut filter switch for reducing low frequencies below 120 Hz, which is useful for mitigating noise caused by air conditioners, wind, and traffic.
Powered by two AA batteries, you can operate the SMX-30 microphone for approximately 24 hours with no degradation of sound quality. The battery-indicator LED light lets you know when it's time to change batteries with up to a 1-hour warning beforehand.
Finally, an integrated shock-absorbing shoe mount isolates the SMX-30 microphone from camera-motor/handling noise. The mount is designed to fit the standard camera shoe and comes with 1/4"-20 threads at the bottom for mounting to boom poles and other camera accessories. A foam windscreen is also included.
Stereo or Mono? Why Choose?
If you only have the budget to buy one microphone for your camera, why should you have to choose between mono and stereo? The SMX-30 is stereo-/mono-switchable, so you don't have to be
Gain Control
The audio controls on DSLR cameras are limited, if they exist at all. And DSLRs are notoriously known to have low-quality microphone preamps that add noise to the video soundtrack when the gain is turned up. Azden's SMX-30 has a +20 dB gain booster so you can get a strong, clean audio signal into your camera, minimizing the need to turn up the noisy preamp
Frequency Response
The SMX-30 has a wide frequency response ranging from 40 Hz to 20 kHz, so the audio you capture will sound full and natural
Power
Powered by two AA batteries, which is a lower-cost option than the 9V battery used in some competitor microphones, the SMX-30 can achieve 24 hours of operation with a single set of batteries with absolutely no degradation of sound quality
Maximize Battery Life
Maximize battery life by using the unique "Auto" power setting. When set to Auto, the SMX-30 can detect when a camera is on and will automatically power on and off with the camera (requires a mic input that provides plug-in power). Ever leave your microphone on by accident to discover that the batteries are dead the next time you try to use it? Eliminate that possibility by always leaving the SMX-30 in "Auto" mode
Integrated Shock-Absorbing Shoe Mount
Integrated into the design of the SMX-30 is a custom-made, shock-absorbing shoe mount to isolate the microphone from camera-motor/handling noise
Technical
Warranty
Non Warranty