B-Steady Pro 3-Axis Smartphone Gimbal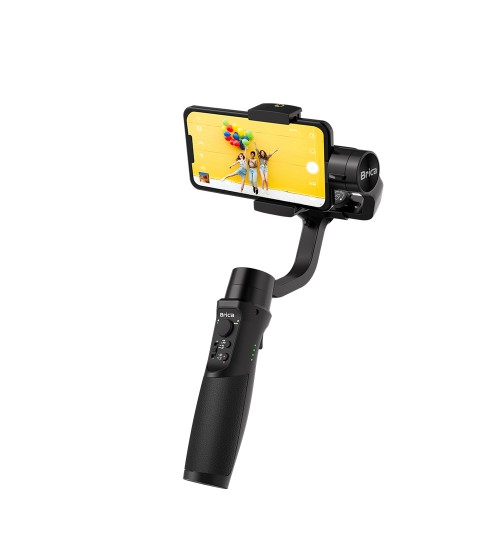 Lihat gambar lebih detail
The B-Steady PRO offers more flexibility and versatility in your stabilizer to turn your moments into unforgettable cinematic experience, you can use it with your smart phone or your action camera.
Features:
- 3-Axis Stabilizer Gimbal
- 600° panning
- 320° tilting
- 320° rolling
- 3600mAH battery for longer use time
- Zoom control
- Panorama mode
- Multiple tracking modes


Equipped with 3-axis motor, long lasting batteries, and mini tripod to go along, making this gimbal stabilizer the one you need for all your recording.



The stabilizer gimbal can easily track the subject face, object or any movement easily using the app while connected to your smartphone.




Create a timelapse video easily with the stabilizer gimbal, either timelapse or motionlapse, everything is easily set-up and with a wide array of settings options to suit your needs.




Easily create a panorama photo, with just a touch of a button, the stabilizer gimbal will made sure that the panorama photo is steady and with no distortion, while the app will do the work so you can get your panorama photo easily.



You can easily control your camera to zoom-in or out with just a touch of a button from the stabilizer, now you can get that video that looks like it made by a professional videographer.

B-Steady PRO is equipped with internal 3600mAh battery which can last up to 12 hours, can be charged using portable power source, and the stabilizer can be used to charge the phone.


The stabilizer gimbal is equipped with detachable mini tripod for easier use in vlogging taking steady shot, panorama photo, etc. The mini tripod is included inside the packaging.




B-Steady PRO includes actioncam adapter inside the package, use it to put your actioncam with the B-Steady PRO stabilizer to record your action in a smoother cinematic experience.

*External smartphone adapter is sold separately.