BOYA BY-WM3U Digital True-Wireless Microphone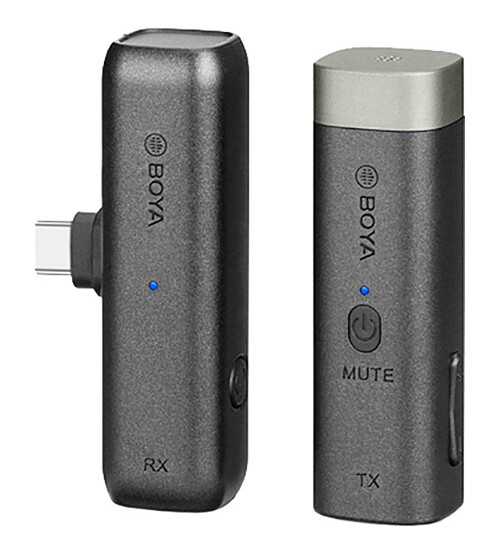 Lihat gambar lebih detail
Features
>> For Video, Vlogging, YouTube, Instagram
>> Miniature Transmitter with Built-In Mic
>> Plug-In Receiver for Android/DSLR/Phone
>> 4.5 Hours on Rechargeable Batteries
Plug-In Receiver with Three Interchangeable Adapters for All Your Devices
>> The miniature plug-in receiver comes with a set of three audio adapters, allowing you to connect it to virtually any recording device—no cables or clips required.
>> USB Type-C adapter plugs directly into the USB port of your Android phone or tablet (gives you better audio quality over using the headphone jack on your phone/tablet)
>> 3.5mm TRRS adapter plugs directly into the headphone jack of your iOS/Android smartphone/tablet
>> 3.5mm TRS adapter plugs directly into the audio input of your camera, camcorder, or digital recorder
Versatile Charging Case for Powering In the Field
>> To recharge both transmitter and receiver at the same time, place them in their respective cradles inside the charging case, and connect the case to USB power via the included USB charging cable.
>> The fast-charging case recharges the transmitter and receiver in just 2 hours.
>> The charging case itself features a 1000mAh rechargeable battery, which can be used to recharge both transmitter and receiver when working in the field without access to a power source.
>> The transmitter operates 4.5 hours on a full charge and the receiver 8 hours.
True-Wireless Microphone That's Easy to Use and Ready to Go
>> Use the compact clip-on transmitter as a true-wireless microphone with its built-in mic element—no cable between mic and transmitter required as with traditional bodypack transmitters.
>> Place the transmitter and receiver in the charging case and close the cover. Open the cover again and they are both automatically powered and paired for immediate use without any setup required.
>> You can quickly mute the microphone/transmitter with a short press of the power button.
>> An LED indicator on both units shows power, muting, and low-battery level.
Other Features
>> Slim plug-in receiver does not interfere with the operation of a gimbal.
>> This digital wireless system avoids interference from TV and radio waves by operating in the 2.4 GHz frequency band, which occupies frequencies beyond those of television, radio transmissions, and UHF wireless microphone systems. For optimal performance, environments with limited Wi-Fi / 2.4 GHz traffic and minimal physical obstructions are recommended.
>> Operate up to 20 systems simultaneously in the same environment.